…buried under three miles of toxic waste. Yes, it's Previews time!
Witchfinder: In the Service of Angels (p. 39) collects Mike Mignola's miniseries into one easy to handle book. I am so glad I stopped buying single issues for Dark Horse stuff.
Do people really buy "Toxic Boy and Stain Boy" covers for their iPhones? Oh, wait, these are Tim Burton things. Never mind, they do.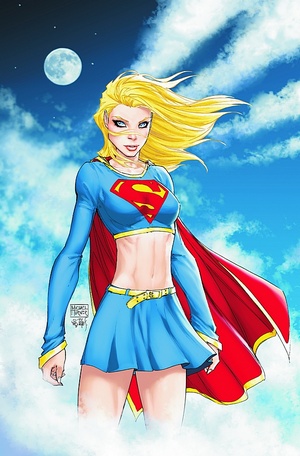 Congratulations, Supergirl! On both your 50th issue and your transfiguration into an elven snake-monster.
Doom Patrol #7, written by Keith Giffen, reintroduces Crazy Jane. I imagine that if you like Crazy Jane, you'll wish DC went back to ignoring the run she appeared in.
Night Owls vol 1 (p. 91) seems promising. I don't know much about it, but the premise and art look pretty good.
I had not paid any attention to the Dante's Inferno comic that DC is putting out (based on the upcoming videogame). Becky is very much into Dante studies, so I'm sure she'll want the trade of this. Here are the first three issues:
Based on the upcoming EA video game, this classic epic poem is brought to life as never before, courtesy of writer Christos Gage (WILDCATS, X-Men/Spider-Man) and hot new artist Diego Latorre. Dante Alighieri is re-imagined as a holy warrior who has returned from the Crusades to find his beloved fiancée Beatrice murdered. When her soul is ensnared by Lucifer, only Dante has the strength and courage to break open the gates of hell and save her. But at what cost to his own immortal soul? And is Dante himself pure enough for this impossible task? Find out in this sizzling new 6-issue miniseries!
Beatrice, Dante's beloved, has been kidnapped and stolen away into the depths of Hell! Now, Dante must descend to rescue her before Lucifer carries out his plan to make Beatrice his wife — the all-new Queen of the Damned!
Lucifer and Beatrice arrive in the place where she will be adorned for their wedding: the second circle of Hell known as Lust. While Cleopatra attends to the bride-to-be, Dante fights against Cerberus in order to escape the Gluttony circle and stop his beloved's horrific marriage.
On page 121 there's a solicitation for The Lizard Prince. I assume this is about Jim Morrison's grandson, since his son would have already ascended to the Lizard Throne.
While it's TECHNICALLY true, I guess, calling Rich J—ston a "Doctor Who writer" is a bit much. He wrote one story that he was sure was blowing everyone's mind. It was not particularly good.
Weird World of Jack Staff #2 is solicited on page 164. A second issue? That's a promising sign…
I remember the time I bought stuff from Antarctic Press. Man, I am so, so sorry.
HOLY SHIT WARREN ELLIS HAS A THING THAT IS UNLIKE ANY OTHER THING THAT ANYONE HAS EVER DONE AND OMG STEAMPUNK AND WARREN ELLIS ZZZzzzzzzzzzz
Oh god, oh god, this is the best, guys:
It's all in the cards, baby! DF has some really cool trading card series ranging from Top Cow's Witchblade to Aspen's Fathom, Red Sonja to Dawn and many more! Now, the best price we can do this at is $49.99 for these random boxes, as the MSRP is usually up to $80.00 per box (and sometimes more)! But wait, there's more! We're going to add in 2 rare chase cards with each box! From signed cards, to chrome cards to Sketch cards, fans will get extra with each box! Again, things this good can only be offered for a limited time, so this offer is good with initial orders only for February and is limited to initial orders placed in December only!
I can't imagine anyone NOT taking advantage of that amazing offer!
Fantagraphics offers Captain Easy: Soldier of Fortune vol 1 (p. 235) and that is MIGHTY tempting.
I'll be getting Doctor Who #8 (p. 248) and loving the Paul Grist cover for it.
It might surprise you to know that I like Silver Age space comics, and Dan DeCarlo's Jetta (p. 250) looks right up my alley.
Wooo! New Atomic Robo book! Atomic Robo and the Revenge of the Vampire Dimension #1 (p. 261).
IMPORTANT NOTE ON PAGE 361: "The Bakugan Baku-Gauntlet allows the user to gain higher G-Powers when using the Ability Cards during a Baku-brawl."
Not enough Previews whimsy for you? Then check out Mike Sterling's End of Civilization, Dorian Wright's Previews for Gays, and Chris Sims' Chris Vs. Previews!