People have been messaging me, dying to know what was up with the comics I posted while I was gone. "Dave," they say, "I gotta read me more of that!"
Well, they were all excerpts from Low Moon, the newest book by Norwegian cartoonist Jason, a favorite of mine.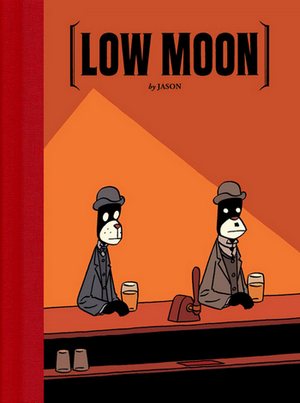 Low Moon is a collection of five stories: "Emily Says Hello", "Low Moon", "&", "Proto Film Noir", and "You Are Here". All of them are unmistakably Jason's work: minimal dialogue, mixture of comic/serious/absurd/emotional moments, and populated by anthropomorphic animals. He uses crisp, clear lines, and despite the low number of words and the use of animals, conveys a wide range of expressions and emotions. He also effortlessly jumps, blends, and frustrates genres; the titular story, in fact, is a sort of Western, only it involves a chess rivalry, and there are no horses.
Jason's done a lot of things, and the ones I really like are Why Are You Doing This? (first of his books I read), The Left Bank Gang, and The Last Musketeer. Meow, Baby! and Pocket Full of Rain collect his shorter works and gag strips.
Jason is a huge talent and I'm always excited to get a new book of his. His stuff is distributed in the US by Fantagraphics Books.
If you already know and love Jason, you probably already own Low Moon. If you don't yet know his work, it's a fine collection to start with.