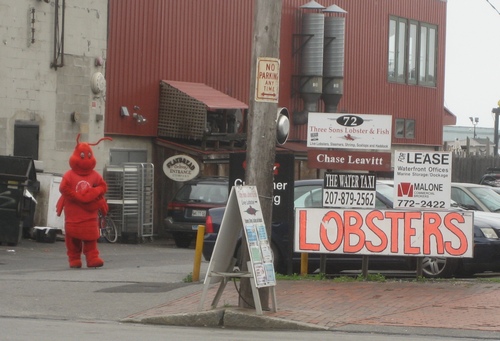 Becky's sister Karen was in Portland for a conference, so after it wrapped up on Thursday we drove up there to hang out with her!
It was rainy, foggy, and gloomy the entire time we were there, but we still had a good time. How gloomy was it? Well, here's the view from the top of Mt. Batty:
See all the landmarks the helpful guide is pointing out?
Also, at the end of this breakwater is a lighthouse, believe it or not:
So yeah, it was pretty grim out there. But the storm moored just off the shore made for some awesome ocean action!
And let's face it, what better way to walk the rocks and look at lighthouses in Maine than while wrapped up in a raincoat? I'm disappointed we didn't all have yellow slickers!
We did do some indoors things. There was the Portland Museum of Art, which had a really cool exhibit on exploring the Arctic. We checked out the marine observatory as well. And of course there are like a million little shops around, which we browsed — and occasionally bought — in. There was also good eats all around, and we had some Thai, some burritos, and of course seafood, though I think Karen was the only one who ate any lobster. (I just don't know about lobster. It's okay, but I've never eaten it and gone, "HOLY COW I AM PUTTING THE SUPER GOOD STUFF IN MY TUMMY RIGHT NOW!") And naturally we had breakfast at Becky's Diner, because there's nothin' finer! I tried some of the local brews as well, and brought home a six pack of Belfast Bay "Lobster Red" Ale.
We drove up to Camden and hoofed it around there and Rockport a bit, but mostly we stayed in Portland proper, walking around on rocks near the ocean.
Sorry I don't have much exciting to report. It was merely a pleasant, relaxing trip.