A few years ago, Michael Chabon delighted many with his book The Adventures of Kavalier and Clay, which told the fictional story of two young creators during the Golden Age (roughly, the 30s and 40s) of comics. The book wasn't bad but really, why not just read about the actual people who did the actual work? Reading about their fictional creation, The Escapist, didn't make me want to read the adventures of The Escapist, it made me want to go back and read stories with the actual heroes The Escapist was modeled after.
Problem is, a lot of this stuff hasn't survived that well. Sure, you can thrill to Golden Age Batman (who has no problem offing people) and Superman (who uses his godlike powers to foil crooked orphanage managers), but what about the heroes that didn't quite make it? There were TONS of them during the Golden Age, but most of them are now unknown.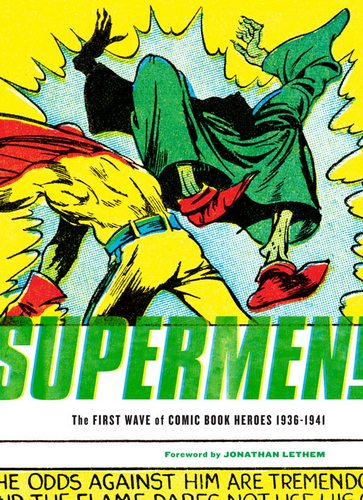 This is where Supermen! The First Wave of Comic Book Heroes 1936-1941 (Fantagraphics, $24.99) comes in. It shows us some of those forgotten heroes such as Blue Bolt, The Face, Dr. Mystic, Rex Dexter of Mars, and Silver Streak. These and others are the lesser known creations of folks who would go on to be huge names in comics: Jack Cole, Will Eisner, Basil Wolverton, and yes, Jack Kirby.
More importantly, though, it shows these creators and others staking out territory in an unknown new world. The new medium — comics — and new genre — superheroes — were full of possibilities, and these creators explored them fully. Among the sometimes crude art and hackneyed plots are absolute gems of storytelling. (Almost more notable than what is included is what isn't: references to "Dr. Fung — Super Sleuth of the Orient", "Auro — Lord of Jupiter", "The Lama of Kadak", "Bentley of Scotland Yard", and the tantalizingly-named "Spurt Hammond" appear on the reproduced covers, but do not have stories in this volume. They hint at the wide variety of adventure stories being produced.) Included are two stories by the mind-pummeling Fletcher Hanks that could be generously referred to as "batshit insane" but show the unpredictable and weird areas folks were taking these stories. (Hanks isn't the only guy doing crazy stuff here: the "Fero, Planet Detective" story is right up there in gleeful insanity.)
The collection is edited by Greg Sadowski and has a foreword by Jonathan Lethem which, honestly, I didn't read because I really don't care what Jonathan Lethem has to say about these stories and would just rather read the stories. It also features biographical notes on the featured creators. The stories are well-reproduced and you get a good amount of them. Ultimately, though, the collection can't help but disappoint, since it makes you just want to keep reading more. It's great to read comics that are fun, inventive, and delighting in the medium instead of dour, "relevant", and procedural. Supermen is a teasing look at a truly Golden Age.