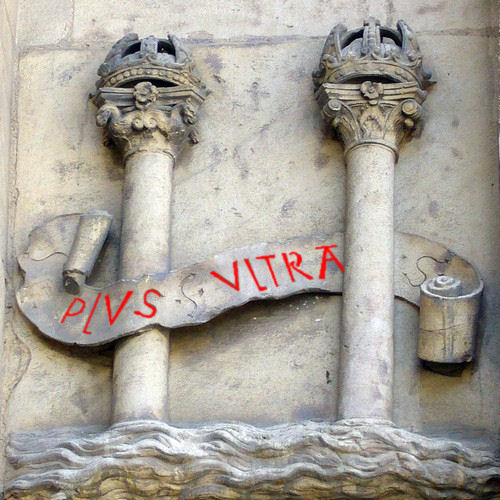 Behold the thirtieth volume of the "Cool New Music Tape" series, Plus Ultra. It's a little overdue, but well worth the wait. The title comes from our trip to Spain last year, when we saw this motto (it means, "More Furtherer") plastered everywhere. And lo, just as I feared my musical horizons had reached their own Pillars of Hercules, this collection is here to declare that there is ever further to go!
Here are the tracks on it:
OLD WORLD:
(1) Less Talk More Rokk – Freezepop
(2) Fantastic 6 – Alphabeat
(3) Truck – The Octopus Project
(4) Hey! – Home Blitz
(5) Becky – Be Your Own Pet
(6) Emily Kane – Art Brut
(7) Love Me Like You – The Magic Numbers
(8) You Can Have it All – Kaiser Chiefs
(9) Keep The Car Running – The Arcade Fire
(10) Time to Go – John Vanderslice
(11) Ankle Injuries – Fujiya & Miyagi
(12) Doves – The Black Angels
(13) Freak Out – Liars
(14) California Girls – The Magnetic Fields
(15) What We All Want – Gang Of Four
(16) Earthshake – Social X-Ray
(17) 357 – The Minders
(18) Satin Rules – Helms
(19) Handlebars – Flobots
NEW WORLD:
(1) Bros (edit) – Panda Bear
(2) Seven Days Of The Week (I Never Go To Work) – They Might Be Giants
(3) That's Not My Name – The Ting Tings
(4) The Wrath Of Marcie – The Go! Team
(5) Change It Up – Triggers
(6) Yolanda Hayes – Fountains Of Wayne
(7) Does This Mean You're Moving On? – The Airborne Toxic Event
(8) Black Lounge – Baltic Fleet
(9) The Old Hag Is Sleeping – The Fiery Furnaces
(10) War Pigs – Cake
(11) Young Folks – Peter, Bjorn and John
(12) I Don't Do Crowds – Camera Obscura
(13) New York Is A Woman – Suzanne Vega
(14) Think I'm In Love – Beck
(15) Sax Rohmer #1 – The Mountain Goats
(16) Beanbag Chair – Yo La Tengo
(17) God's Gardenias – Shriekback
(18) Put There by the Land – Great Lake Swimmers
(19) Sons And Daughters – The Decemberists
As you can see there's some old and some new, but it generally gets me up to date.
I'm hoping to follow this one up with another pretty soon, so once again, if you know of a great song from the past year or so that you think I should hear, please leave a comment!
PLUS ULTRA: MORE ULTRA THAN EVER BEFORE.