I've been in the market for a notebook computer for some time. I'd like something portable that I can work on so that I can go to Louisiana or Illinois or wherever and be able to do work for my employer and have all my tools and email and porn with me.
I wanted a Macbook, and was looking to save my pennies for one. For my birthday, Becky said, "Hey, I don't know if you want a notebook or a Lego Death Star or an Xbox 360 or a Crokinole board more, so here's $500 to put where you'd like it!" Shortly afterwards I sold some comics and trade paperbacks to my comic store for a nice $250. And then I sold some games on Boardgamegeek and cleared almost $200 more. A notebook was in my reach!
When I looked at the Macbook, however, I just couldn't ignore the cost. I was looking at at least $500 more, easily, that I just couldn't justify spending. I don't doubt they're great machines, but nobody opts for the Hyundai over the Mercedes because they think the former is the superior car.
So now I have a Dell-brand MacBook, called the "MackBoop". Here are some of the stats on it:
Studio 1735, Intel Core 2 Duo T5750, 2.0GHz, 667Mhz, 2M L2 Cache
Ruby Red
3GB, DDR2, 2 Dimm
Hi Resolution, glossy widescreen 17.0 inch display (1440×900)
Intel Graphics Media Accelerate
250G 5400RPM SATA Hard Drive
Microsoft Windows Vista SP1 Home Premium Edition, English
8X Slot Load CD / DVD Burner (Dual Layer DVD+/-R Drive)
Integrated High Definition Audio 2.0
Dell Wireless 1397 802.11g Half Mini Card
Integrated 2.0M Pixel Webcam
56 WHr 6-cell Lithium Ion Primary Battery
Yeah, 17″ means it's a Big Boy, but it's going to be my main computer, so I wanted it to not be tiny. And I'm not going to be toting it to the coffee shop every day, just on a plane every now and then.
And here I am surfing the net…WHILE IN BED! WHAAAAAAA?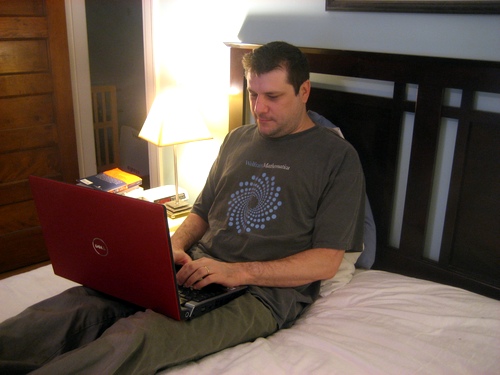 It has Vista on it, which I was a little leery of but decided I'd just get over. Microsoft rewarded my trust with having Vista crash within 6 hours of first turning the machine on — so hard that the only cure was to unplug the computer AND remove the battery. And also Vista comes with this awesome security feature that warns you if you're about to do something that will change your system in an alarming way, such as creating a new folder. Yes, it warned me I was about to create a new folder.
It took me a long time to find out where to turn off this idiotic safety feature and even then it whined about how disabling it would allow Al-Qaeda operatives to set up dangerous new folders on my machine, but I finally killed it. I had to mute the volume to avoid hearing this feature sing "Daisy" as I confirmed the seventeenth dialog box asking if I REALLY wanted to cause untold devastation on my machine.
Since then I've had no problems at all, and things are more or less working. I've gotten used to the different keyboard and the touchpad (I still use the mouse at my desk) a lot faster than I thought I would, and I'm getting everything set up and settled in.
And yes, it plays Diablo II just fine.