In 1995, Hasbro started up again with Star Wars action figures, not seen on store shelves since 1985. I resisted the urge for about, oh, two weeks? But then I started buying them. And buying them. And buying them.
Eventually I stopped, though. Recently my pal Dave, who also collected them, decided to unload some of the ones he no longer wanted in a series of senses-shattering eBay auctions. This inspired me to do the same, except I was going to cast my net wider. Instead of selling some of them, I'm going to sell ALL of them.
We moved to Massachusetts in 2003. The action figures were still in the boxes they shipped in, untouched. If I did open them up, I'm not sure what I'd do with them anyway. Do I really need to hang on to these things? No.
You may remember that they were stored in what was affectionately referred to as the "Star Wars Morgue". Here they are back in Illinois: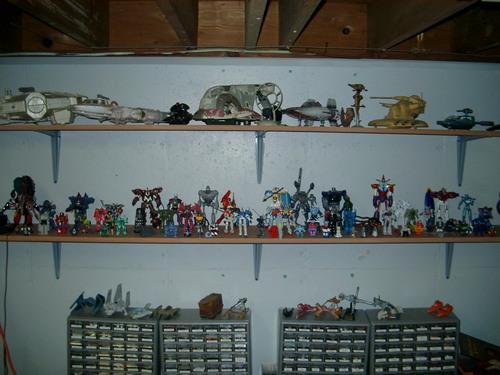 As you can see towards the bottom, the Morgue consisted of hardware organizers. It was pretty clever: each figure had its own drawer, labeled, that held it and its accessories. When it came time to move, I taped cardboard to the fronts and backs and voila, instantly portable. Sometimes I'm smart!
So this weekend I cracked open the Morgues and went to work figuring out what I had, who was missing what, and so forth. I'm just about finished. Here are the results of my labor:

Many baggies died to bring us these boxes
Going through them brought back a lot of memories. There were some I can still remember getting excited about finally finding. There were a lot that were really cool, and some that were highly mockable.
The line started in 1995 with the ridiculously beefy versions of our heroes. Their proportions were so absurd I did resist buying them for a short period of time. Before long the sculpts settled down and we got into pretty much the golden age of the new figures. It was really exciting finding out who was being released next and seeing what kind of job they did. You also got to wince at the silly names like "Momaw Nadon" (Hammerhead) and "Ponda Baba" (Walrusman) and wonder aloud at who thought R5-D4 needed laser cannons on his legs and a missile fired out of his body.
Soon collecting became more of a chore, as scalpers would buy up new figures instantly and sell them on eBay (or in their comic shops) for stupid prices. There were, in theory, plenty to go around — none were actually rare — and yet, geeks being geeks, they would instantly create a shortage and seek to fill it. However, if you were just patient, you could always get anything off a peg without paying a scalper. I did. Nevertheless, this period involved a lot of late night toy runs for Chris , Christine, Dave, and myself.
In 1999 came The Phantom Menace and as I sorted through these figures I fell in hate with it all over again. Forget the awful movie and it's idiotic characters, the figures themselves are just awful. Most of them have no accessories at all. There's an R2-D2 with this line that literally does NOTHING. It's like the fifth R2-D2 released, so you'd think by now it would have some feature added but instead it just sits there. And it's not alone: since most of the characters in the movie are Jedis, Senators, or Old Dudes, that means they're all wearing robes, which means a lot of figures that can only wave their arms around. I call 'em "arm-wavers" (Dave calls them "salt shakers", which is better.)
This is also about the time when I stop buying every carded figure. My original goal had been to get all the 3.75″ scale figures I could, but a bunch of lame exclusive pack-ins helped cure me of that, so I scaled down to just all the carded figures. However, there was a point where I stood in a toy aisle, looked at yet another damn Qui-Gon Jinn and said, "No mas!" I drew a line in the Tattooine sand that day. In fact, 1999′s sixth wave of releases contained four figures, only one of which I bought. It was commonly known as the "Screw You, Dave" wave, and also as the "No, Screw YOU, Hasbro" wave.
Once I broke my streak it became easier to avoid them. As version after yet another version of the same characters came out I was able to avoid many of them. (Not always. As I looked at this guide (thanks, Dave!) to the releases, I'd see a Han Solo or something and think, "What the hell? Exactly the same as before only wearing a Stormtrooper belt? No way I bought that!" And it turned out that yes way I bought that.)
By 2002 when Attack of the Clones came out, I was already losing some interest. I passed on a lot of even the initial release figures. It didn't help that Hasbro suddenly decided they needed stupid action features and ridiculous poses that really limited their ability to do anything other than re-enact one specific frame of the film (not that I was doing anything with them other than putting them in the Morgue, but it was the principle.) Gradually the figures got more and more "posed", with hardly any worthwhile articulation at all. Some of the Jedi released at this point were more or less just statues.
I got less and less interested in Jango Fetts and fortunately Hasbro got back to making figures from the original trilogy, but it was too late for me. By this time we had moved, I didn't have many good sources for toys nearby, and I didn't have the energy to go looking for them anymore. From what I can tell, the General Reikaan deluxe figure was the last one I bought.
So now here I am with approximately 384 separate action figures I'm planning on unloading. I'm still matching up accessories (there are very few "missing" guns and lightsabers, and those that are are usually turning up in a big box of accessories I have.) Then I have to divide them into lots, photograph them, and put them up on the eBay. Not looking forward to it, but even if I only get two bucks per that's pretty close to a new laptop for me. (Anyone want to buy a big honkin' collection of Star Wars figures for two bucks per?)
I don't want to seem dismissive of these. I really did enjoy collecting them for a time, and many of them are really great toys. Part of me will miss them, sure — I'm a geek and thus partly fueled by nostalgia and ownership. But since I don't really see being entombed in a giant pyramid with all my possessions, I think I can relinquish some of them. Thanks for the good times, Hasbro!