Let's start on a positive note! I totally dug the first trade of The Umbrella Academy, and even though I'll wait for the trade on this, I got a good feeling about The Umbrella Academy: Dallas (p. 26). Hell, I wouldn't even mind the Umbrella Academy T-Shirt on the next page, if $30 for a t-shirt wasn't crazy stupid.
I'm still behind on Kurosagi Corpse Delivery Service, so I won't be getting volume 8 (p. 45) yet, but I got vol 5 this week and an ad in it suggests that if I like this book, I might also like 'Kurosagi Corpse Delivery Service', so I'll be checking that out.
Over on Page 90, am I reading this right? Or is my mind playing cruel tricks on me? Showcase Presents: Strange Adventures Vol 1 (p. 90) — is that the non-Adam Strange stuff from that mag? If so, I have got to have it! GOT TO!! It might have SPACE CABBY in it!!! [No, he was in Mystery in Space — Ed.]
Yes yes, Sandman: Dream Hunters #1 (p. 108). True fact: I never read the original Dream Hunters. It was something I was sort of going to get around to (along with getting the remaining Sandman trades I don't have) but never did. I really kind of burned out on Sandman somewhere around "Brief Lives". So in all honesty, I'll probably pass on even the trade of this (assuming it's released in softcover in the first place; DC knows that Sandman fans will happily pay for platinum covers with gold leaf pages.) unless I hear some really good things about it (from people other than those who will declare anything Neil Gaiman does as unparalleled genius.)
I'll be getting Simpsons Comics Treasure Trove #2 (p. 220).
From the United States Department of Hooray! comes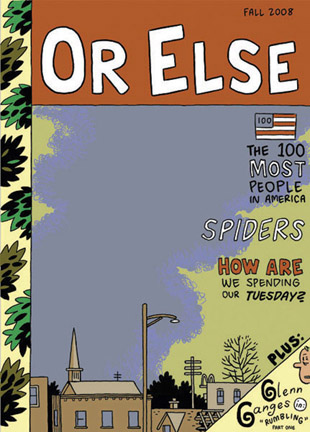 Or Else #5 (p. 271). I'm buying it and so should you…OR ELSE! (HA!)
And a big "huh?" to Thieves and Kings: Apprentices Book 1 (p. 285). I liked Mark Oakley's comic well enough when it was a regular thing, like 4 years ago, but last I heard he had lost interest in it and we probably weren't ever going to see any conclusion to it. Now he shows up out of nowhere with an all-new arc? Should I even bother?
Speaking of "Should I bother?" I suppose I will be getting Doctor Who: The Forgotten #4 and Grant Morrison's Doctor Who #2 (p. 292).
Why I Killed Peter (p. 304) from NBM looks not bad, but it also looks like exactly the sort of thing I'd read once, enjoy, and then be done with. I just don't think I need to own it.
True fact: Wasteland #22 (p. 308) was McCain's FIRST choice for Vice President, but THEY made him change it.
True fact: Atomic Robo: Dogs of War #4 (p. 313) is better than most candy.
True fact: Brickjournal #4 (p. 354) is porn, as far as I'm concerned.
I know a lot of geeks. I know a lot of geeks who liked the movie The Nightmare Before Christmas. I have never known any geek who liked that movie as much as Diamond wishes they did. It's not even in the Halloween and Christmas issues…every single issue is fat-packed with just gobs and gobs of NBC crap.
And to make up for the fact that the above isn't really a gag, here's a terribly named item:
And Christmas is coming up, so be sure and reserve your 'A Christmas Story' Leg Lamp Everything from Diamond!
ONE OF THESE KIDS IS DOIN HIS OWN THING!
And that's it! The things in green are the things I'm going to be ordering out of Previews this month. Unless, of course, my comic shop tells me DON'T BUY!