It's been hotter than a witch's teat on fire here for the past couple days, so last night I had a wonderful idea: go to the movies! We hadn't seen the latest Indiana Jones movie yet, so it was good idea on top of good idea! (Strange, even though this was an "Indy" flick, neither Parker Posey nor Lili Taylor were in it. HAW! Feel free to use that one at a cocktail party, folks!)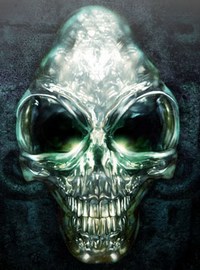 I should say right off the bat that while I absolutely adore Raiders of the Lost Ark, I don't really care much for the other two original movies. Yes, even the one with Sean Connery. I could watch Raiders over and over but I doubt I've seen Temple more than once and Crusade more than twice. I don't know what Raiders has that the others don't (Marion?) but something about them just doesn't make my whip crack.
And so it was with this one. It wasn't bad, but I'm just not sure what the point was. It's been nearly two decades since there was an Indy movie, and this one wasn't really amazing enough to justify bringing the character back (I'd always thought that they shoulda gone all James Bond with the character, letting other actors take over the role. If that had been the case, and this was one of, say, ten movies since the original one, then maybe it would "feel" better. It's easier to accept a weak spot in a series than a weak "returning at last!")
The main thing that bugged me was the infestation of current action movie standards, where every single action scene has to go one for far too long and then immediately give way to another one. Like the second Matrix and Pirates films, this was filled with set pieces that didn't know when to leave the set. There were also a few that went from the merely over the top to the outrageously absurd — the ant swarm was a pretty cool threat, but the UFC fight within it? Just made it silly.
Also, once again the idea that "because we CAN do it in CGI we SHOULD" rears its ugly head. I am referring of course not only to the groundhogs, but the I'm-sure-someone-involved-called-it-jaw-dropping finale.
A lot of folks have remarked on Lucas' insistence that the Crystal Skull be "explained" and that didn't bug me TOO much, except that the explanations didn't stay on track. I'm thinking especially about the conveniently variable "magnetism" it and the corpse display.
So what DID I like? Cate Blanchett chewed scenery and had a great time, obviously. I liked Marion. I thought Shia did a pretty good job with a role that had to have been (should have been, at least) a lot of pressure. I thought they did a good job with an older, slower, wiser Indy. John Hurt, the Malcolm McDowell of good guys, did fine as usual. About the only actor/character that really bugged me was the "is he a villain or not" guy, whose name I barely remember and who seemed like a ridiculous clown.
What I'd say about Indy 4 is what I'd say about Indys 2 and 3. Watch them only if you want you some Indy and have loaned out your copy of Raiders. There really isn't much point beyond that.
On the other hand…
Becky and I have been playing this, and we're loving the hell out of it. We just finished the Raiders scenes and it's a blast. I admit, I'm kind of right at the target audience for these Lego videogames, but all of them have been utterly charming and delightful. And considering that you can get the game for about the price of two folks seeing the movie (along with snacks), then I guess you can figure out where I'm going with this…