---
Our next contestant on GUEST BLOGGER IDOL is AL. Al's bio reads:
The Albatross

An expressed sequence of nucleotides, a stable system of energy, a solved mind-body relationship, a soul, that plays harmonica, has a degree in advanced bullshit, believes that everything is art, and likes his scotch. I'm also generally happy.

Yo.
And here is Al's audition post.
---
Graf.
Spray paint as a medium has moved from the clandestine act on a train and billboard to writing "Fuck This Museum" over the walls of the MOMA as patrons watch sipping Pinot and eating gouda.
http://graffitiresearchlab.com/?page_id=138#video
So anyway, I thought I'd get in on the action.
All you need are some painting clothes, a breathing mask, cap, gloves, spray paint, and some old school hip-hop. Over the past year the board game group with which I meet has been kind enough to provide me with the empties sprues from which they've popped out the chits, tiles, and playing pieces for board games. I use them as stencils. You even get to pick your own tag name, just like on the internet. Mine is Tross.
Here are some preliminary results: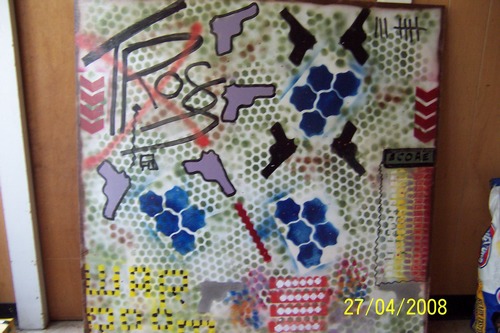 It's an homage to a group that began meeting over the past year to play some more obscure and tough to get on the table war games I call The War Room. In addition to spray paint, there are some traced outlines you may notice on the guns that are done with a permanent paint marker my love Ally bought for me for my birthday along with some high end Montana Alien line spray paints. I use lauan as canvas, because for $12 you can buy an 8'x4' sheet which, cut in half, provides two 4'x4' canvases. An actual stretched framed canvas of the same size would run ten times as much, and I've found I can't work well at smaller sizes.
The nice thing about working with spray paint is not only can you work well outside, but unless you've got a spare warehouse handy, it's basically necessary to avoid the fumes. It's a perfect warm weather day spent making some art, drinking some sangria, grilling some ribs, and listening to the World Champion Boston Red Sox.
I've also noticed that since I've taken a more active interest in aerosol art I've developed my Spraydar. Tags pop out to me a lot more than they ever did. I think a lot of people tend to filter them out. I'm not condoning vandalism here, especially because there are a lot of crap tags sprayed all over buildings. But I am definitely a proponent of setting aside public art spaces for people who do want to work in the medium.
If you care to check out some of the more impactful people working, check out the following:
Known Gallery (home of the 7th Letter Crew)
You're It.