Holy followthrough, I actually did something I said I'd do! I upgraded the lightbox!
First was the box itself. The cardboard-and-tissue-paper one was too flimsy. Instead I looked into what Anna had mentioned and ended up buying a clear plastic bin. I put tissue paper on the outside of that and some kind of off-white wrapping paper we had on the inside.
All I needed to do now was build something, and that something was the Asteroid Colony!
(You can click on the link to see all the photos of it.)
I know, I swore before that the next thing I built was not going to be gray and wasn't going to be something sci-fi. What you have to realize is that I was lying.
I then got a hum-dinger of an idea and set to work. Over the next few days I built and I built and eventually came up with: The Skelemech!
Rarrr! According to the site, I am the only person on all of Flickr to use the tag "skelemech". So I'm really kind of a pioneer.
The idea is, in the latest Castle sets, it's Knights vs. Skeletons. What my model presupposes is…what if the Skeletons suddenly got crazy high technology? The result: Skelemech. Rarrr! Unfortunately, some ham-fisted Paint Shop Pro action on my part makes the Skelemech pictures not so hot.
One thing you can tell is that I have much better lighting on the right side than on the left. That's because the right side has a small desk lamp pointed at it while the left side…doesn't. So I went out and got me some work lights, the kind with cages around the bulbs even though Becky specifically said not to get the kind with cages around the bulbs. They should have also come with a warning that their power cords were only eight inches long, so unless I was using them to illuminate electrical outlets, I'd want an extension cord.
Now the setup looks like this: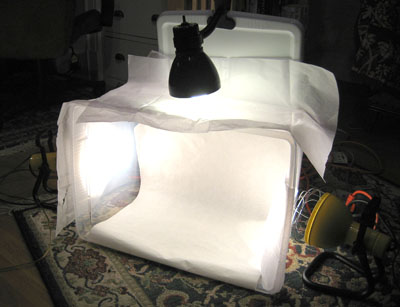 The lamps can get kind of hot while they're pointing at the plastic-and-tissue-paper box sitting on the rug. But still I think they'll be just fine for photographing my oily rag and fireworks collections.
So now that I have some primo illumination, I was ready to test the results on another piece of Skeleton technology, the Mini-Skelebot:
(Tag "miniskelebot" = another first for Team Daveexmachina!)
Check out the legs on it! That's some quality building there.
As you can see, everything is MUCH better. The lighting is much more even. These pics also benefit from me enhancing them in Photoshop rather than Paint Shop Pro. I love PSP, but I think PS handles things a little more delicately. I ASSURE YOU MY COPIES OF BOTH ARE PERFECTLY LEGAL.
The lightbox is now a little more costly than the original cardboard one for pennies, but the great part is that everything I've bought for it (the bin and the lamps) can be used elsewhere if needed. And it's still way cheaper than a real one. Thanks to everyone who's helped out with suggestions and critiques, with photography, building, and photoshopping!