In making this list I was forced to realize that for me it wasn't that great of a comics year. I read a lot of stuff, and a lot of it was pretty good, but very little that really stood out as "essential". Fortunately there were also very few books I bought that I really regretted purchasing afterwards.
There were books I got that I had already been reading. I'm still interested in Emma, Wasteland, The Spirit, Hellboy and BPRD trades, Hikaru No Go, Usagi Yojimbo, Dragon Head, and The Kurosagi Corpse Delivery Service. I didn't pick up any new manga titles at all, and it seems this year was woefully Cromartie High School-free, which must be addressed post-haste. Here are the new books I got that I think are worth mentioning. (Note: I talked about many of these earlier and in those cases will pretty much just be restating what I said before. So that's why you're feeling deja vu.)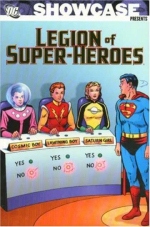 Showcase Presents: The Legion of Superheroes vol 1 by various. (DC) I didn't buy as many of these volumes this year. Some of the new ones I wasn't that interested in and some of the repeated characters I felt like I got enough of in the first volume. But this one is essential. This is was Silver Age reprints are all about. The wildest stories of the galaxy's most obnoxious teenagers. You should buy six copies so you always can have one at arm's reach.


The Professor's Daughter by Joann Sfar and Emmanuel Guibert (First Second). A lovely young lady is walking through Victorian London with a mummy. You'd think this is a premise I couldn't pass up and yet, unbelievably, I did, when I first saw it solicited. I don't know why, as I like Joann Sfar's work, I've been impressed with everything I've read from First Second, and there's a mummy. And yet, I passed on it. And then the reviews came in and everyone couldn't stop talking about how great this book was, so when I picked up my comics I substituted it for another book I'd ordered that didn't get such great reviews (no names here, I'm a gentleman.) Thank goodness I did. This is a wonderful book. Will Lillian and Imhotep IV be able to have a lasting relationship? Will her father come between them? And if not, what of the murder, kidnapping, jailbreaking, and so forth? Will that cause a problem? Will we have to get Queen Victoria involved to sort this all out?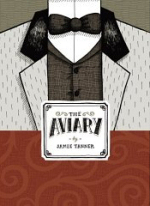 The Aviary by Jamie Tanner (AdHouse Books). Here's what the solicitation copy reads: "Enter the strange world of the Quiet Bird-Man; a world of mysterious corporations, foul-mouthed robots, drunken ghosts, amputee comedians, wealthy simian pornographers and canine scientists; a world of disasters, murders and masquerade balls." And yes, all of that is in here, combined into a richly textured book. It's a series of vignettes, and at first you'll think that the whole point is just weird, absurdly humorous, pointless tales, but eventually they all start to fit together into a whole. (Which is not to say the whole isn't weird and absurdly humorous as well.) The feeling as it all unfolds around you is delightful. It's one of those books where as soon as you finish it, you immediately want to read it again, now that you know.


I Shall Destroy All the Civilized Planets! by Fletcher Hanks (edited by Paul Karasik) (Fantagraphics Books). Wow, just…wow. How to begin? Okay, Fletcher Hanks was this dude who made comics back in the early 40s. About as Golden Age as you can get. He's not overly well known and his stuff hasn't been saved much, but some exists. And that stuff: it's just…wow. His art is dynamic and grotesque, with human proportions that would make even Michael Turner go "Wow, that body is WAY out of proportion." His two main characters, Stardust the Super Wizard and Fantomah the Jungle Beauty have identical powers — they're utterly omnipotent. There is absolutely no tension whatsoever in the stories and no doubt that the heroes will show up and torture, imprison, or outright kill the villains. (And yes, being the Golden Age, these beings with Godlike powers spend their time fighting criminals in three-piece suits, though to give Stardust credit, he does take on 300,000 of them at once.) sometimes they take their sweet time doing it, too. In one story Fantomah happily lets New York City be reduced to rubble before coming in and stopping the perpetrators and then leaving, having done nothing to help restore the city. As a bonus, there's a piece at the end where the guy who compiled these strips, Paul Karasik, tells what he knows about Fletcher Hanks and how he found it out — and there's a very good reason it's at the back of the book. That piece alone says a lot about comics fans. This is another one I originally passed on and then ended up getting based on glowing reviews, and I'm immensely glad I did.


King-Cat Classix by John Porcellino. (Drawn and Quarterly) I really should not have liked this. The only thing I'm more tired of than pointless slice-of-life stuff is "dig this crazy dream of mine!" comics and this book is chock-full of both. Yet Porcellino's writing and art is so affable you can't help but be entertained by whatever he's doing at the moment.


Atomic Robo by Brian Clevinger and Scott Wegener. (Red 5 Comics) I believe the last thing I said about this was "HELLS YEAH" and I repeat that sentiment. Furious and funny, spot-on with both the writing and the art. This needs to come out every month at least once.


Scott Pilgrim Gets it Together by Bryan Lee O'Malley. (Oni Press) Technically it belongs in the list above of serieses I was already reading, but every new volume is a cause for celebration. In this volume there's a moment where I actually cheered out loud about what happened. I can't wait for volume five!


Powr Mastrs by CF. (Picturebox) I bought this based on what was said about it by another comics blogger. It's…it's quite hard to describe. At first I read it thinking that if I turned it over I would see "AC/DC RULES" written on the back in marker. The crude artwork really does look like CF took some serious study hall time to make this. But the more I read, the more I sort of got into the mood created by the artwork. And by the time the surrealistic fantasy gave way to the sex scene between a woman and a giant jellyfish, I was transfixed. There's some kind of bizarre hypnotic spell at work here, and I really can't describe it correctly. Also, as I was reading, I thought, "I have heard these characters' names before. Where?" It then dawned on me: Kevin Huizenga's been drawing his versions of them. HYPNOTIC, I TELL YOU!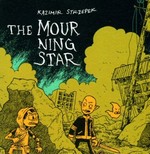 The Mourning Star by Kazimir Strzepek. (Bodega) I don't know where I first heard of this, but I'm glad I did. It's a typical post-apocalyptic story: about a year ago a comet collided with the world, causing massive devastation. The survivors struggle to stay alive and continue with some kind of life. Except it's not our world. It's a word that was pretty damn weird even before all this happened. So there's that, and there's also the fact that Strzepek's artwork has a style similar to that of Lewis Trondheim, making the characters almost cute, even as they decapitate one another. I'm definitely hoping to see more of this!


COMIC OF THE YEAR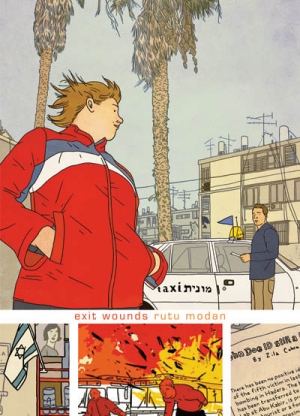 Exit Wounds by Rutu Modan (Drawn + Quarterly)
In Tel Aviv, a young man named Koby learns from a woman soldier named Numi that his father may have been killed in a suicide bombing. Whether or not he was is only the first mystery. How does Numi know Koby's father? And how does Koby feel about this, given that his relationship with his father isn't so hot? I really liked the book's nonstandard take on relationships — too often in American culture we're told that family is of paramount importance, and the relationship between father and son is a special, unbreakable bond. Exit Wounds examines these ideas critically, and the result makes for a powerful read. It's especially interesting set against the brightly-colored, Tintin-esque artwork. I predicted you were going to see this on a lot of "Best of 2007" lists and I wasn't wrong. This is one for your bookshelf.


UPDATE: I totally forgot Alias the Cat by Kim Dietch. I really liked that one.