Wargames! Ameritrash! Hardcore Ludography! Sick of building cathedrals! This was the year that was, boardgames-wise! Here's a list of what wowed me in twenty-ought-seven! (They're not necessarily new, they were new to me.)
Blue Moon City – Right out the gate for 2007 was Unity Games 12, where I learned Blue Moon city, a game I'd been having my eye on for some time. Mere days afterwards I was putting in an order for my own copy. This is a nice, mid-range game with good-looking art and a fair amount of strategy.


Crusader Rex – Soon afterwards, Matt decided to make me wise in the ways of wargames with this lovely block wargame about the Crusades. I went in feeling a little intimidated but afterwards I wanted more more more! As a result, I now Rommel in the Desert, another block wargame, but I haven't played a real game of it just yet. (Soon!) You can read more about my Crusader Rex experience here.


Here I Stand – Then I played Here I Stand, a massive (to me) multiplayer wargame that took upwards of sixteen hours to finish. This was an incredible experience, and I really did feel like I was watching history unfold in front of me. I believe this is the game that turned many of the Sunday crew towards wargames. I haven't really followed that so much, but I am much more likely to sit down to something like this now than I was before. You can read more about our game here.


Combat Commander: Europe – Completing the wargame triumvirate, Matt also introduced me to this card-driven game, and I now know why he and Al love it so much. It's tons of fun, with plenty of strategy for wargame aficionados but not too intimidating for neophytes like me. I've only played once, but I know there will be future plays. There really has been a great deal of work done in making wargames more accessible while still retaining the qualities that appeal to their fans. Since Eurogame designers don't seem overly interested in doing anything new these days, opening up a whole new genre for myself was a good deal.


Tannhäuser – The other genre I spent a little more time in was so-called "Ameritrash", games that are noted for being highly thematic, highly confrontational, embracing randomness, and usually pretty damn violent. Being a fan of Hellboy, I was hooked on Tannhäuser from the moment I first laid eyes on it. Fortunately, my excitement was rewarded. It's a gloriously silly game, but loads of fun. I haven't played it nearly as often as I'd like to, but that will be rectified as soon as possible, I hope. You'll find more Ameritrash in my Honorable Mentions below, and you can read about my Tannhäuser experience here.


Antiquity – But I don't want to sound like I've given up on Euros. I played a number of them that I enjoyed, such as this beautiful one. It's true that it's very minimal on the interaction (up to a certain point) but I found its mechanics to provide a lot of options and tension.


Lost Valley – This one nearly made Game of the Year, and it's certainly my best value of 2007, since I got it for $10 at Unity 13. I really really dig this game, which is about exploring a landscape in search of gold. There are a lot of ways to go about doing this and the theme is greatly dimmers; one does feel like a prospector trying to find wealth. I plan on doing an in-depth review of it as soon as I get a few more plays under my belt, and I will be teaching it at Unity 14.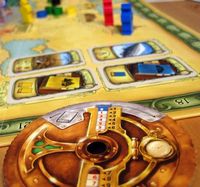 Thebes – Speaking of Unity and strong contenders for Game of the Year, this was another huge hit. I don't know why I don't have a copy of this yet, but it will be coming my way soon. It says something that I have been wanting this so bad, despite having played it only once. It's not your standard Euro-fare. The theme is pretty well done, with a great "elapsing time" mechanic that moves the action. There's also a great deal of randomness which has turned off some people but which I think adds to the fun. I'm hoping 2008 will provide us with more Thebeses and fewer Pillars of the Earths.


Taluva – This one is more in line with standard Eurogames, though it's really more of an abstract. The game is pretty simple to teach and plays speedily, though it can be full of very difficult decisions. It's also nice that the pieces make every play pretty darned attractive. This was another that I wanted my own copy of almost immediately. Unfortunately it's proven to be pretty table-resistant and I haven't gotten much play out of it.


Kahuna – Definitely more "new to me" than "new" (it came out in 1998), Kahuna was a star performer among two-player games this year. Another abstract game, it packs a lot of strategy into a small footprint. It's got a really cool part where a single play can cascade across the board and change everything. I'm hoping to get this one into the Becky rotation, but I'm not sure she was crazy about it when we played.


GAME OF THE YEAR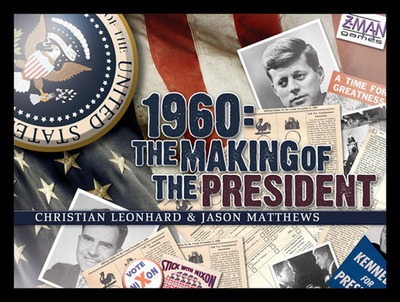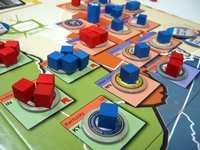 1960: The Making of the President – Within a week of getting this I had played it five times, and I'm ready to play it some more. I love the look, I love the mechanics, I love the tension, I love the theme, I love the gameplay. It's not quite as "deep" as Twilight Struggle, but it still has a lot going on and is (I think) more fun. I gave it a solid 10 on BGG and I don't expect that to change any time soon. You can see more of me gushing about it here.


HONORABLE MENTIONS
Most of these are things I played before 2007 but didn't really play them until this year.
Ca$h 'n Gun$ – Deliriously loopy fun. I'm so glad the Sunday group now has a copy of this available.
Fire and Axe: A Viking Saga – More Ameritrashy goodness, though I think it could stand to be a little more confrontational. Until I can sink James' longboat I won't be completely happy.
Nexus Ops – This game didn't do much when it first came out but now that places are clearing it out for crazy low prices everyone has discovered how much fun it is. Send in little day-glo critters to beat the crap out of each other for their corporate masters. How can this possibly fail?
In the Shadow of the Emperor – I'd played this before but didn't really get into it and appreciate it. Playing it once more this year made me really respect it and want my own copy. More here.
History of the World – I barely remembered this the first time played it. Then I played it again recently and understood why it's one of Matt's favorites.
Cold War: CIA vs. KGB – A nifty, well-themed two-player game with a lot of tension and bluffing. One that will be in my next order. I say more about it here.
O Deadly Swarm – Great game? Or greatest game?
And that's it. My thanks to all the great folks I game with and for Becky for putting up with it all.
My biggest hope for 2008?
I really, really don't want to build any more goddamn cathedrals.