I love Legos. For as long as I can remember, I've owned and loved Legos. I don't have the building instructions anymore, but I still have pieces I know came from the very first Lego set I remember owning:
I haven't bought much Lego recently, though. I'm into boardgames and comics and as much as I adore Legos, they're pretty damned expensive en masse. I do pick up a small set from time to time, if it has cool pieces, or a big set if I see it on deep clearance. I admit I haven't done much with my Legos lately, but as much as I would like to purge a lot of the junk and clutter from around me, I would never part with my Legos.
Playing with my Legos is something I'm always meaning to do. I'll get a space cleared off and think, "I'm gonna try and build a really cool spaceship" or something, but it doesn't happen. And yes, I'm pushing 40 and yes that's the sort of thing I think about instead of leveraging my home annuity or whatever. I have the amazingly cool LDraw software that allows me to build on my computer with an infinite supply of bricks, but I never get around to firing it up. To me, that's sad.
What's also sad is how, despite the huge amount of cool sets coming out, and how — with the Internet, the cooperation of Lego, and so forth — this is possibly one of the greatest times to be a Lego fan, I still deal with people who are down on Lego all the time.
They all inform me that Lego used to be cool, back when it was all just featureless bricks. But these days, the sets are all just specialized pieces that can't build anything other than what's on the box.
I know right away that these people haven't picked up a set in ages, that they're just mimicking what they heard somewhere, because if you open up even a small current set you will instantly prove this theory wrong. Whenever I hear someone spout this nonsense I try to tell folks it just ain't true, but I'm always shouted down by those who know better and long for the glory days of pieces that allegedly required more imagination and creativity.
Yesterday someone called "pootling" commented on my post and left a link to his site, which I followed (I do this with all my commenters who leave such links.) It's a nice site, and on it he linked two lego blogs: Unique Brique Tenchniques and The Brothers Brick. Both blogs spotlight MOCs (My Own Creations) that are creative, imaginative, and employ these so-called useless modern bricks that can't build anything but the box models.
So you other folks can just sit there and whine about how awesome Legos used to be. I'll be over here enjoying creations like this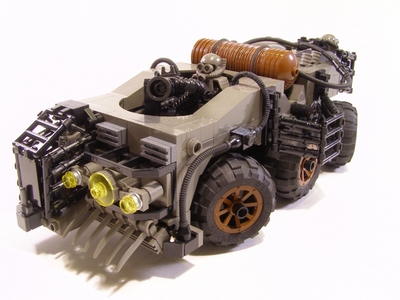 that show how awesome they are right now.