Check out what I made yesterday!
My very own dice tower! I have no idea what brought me to this point. I guess I read one too many postings on BGG about dice towers and suddenly got a wild hair to create one. This one is created with a box I had, some bits of cardboard, packing tape, and some clear plastic I cut off of an old three-ring binder. The plastic creates the window, which makes it EXCITING.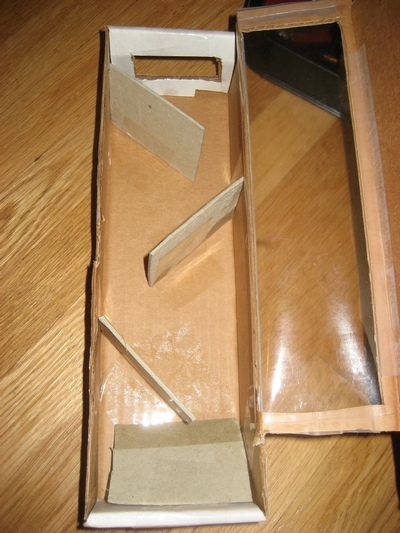 Here it is opened up for inspection. You can see the angle of the ramps and the care that went into cutting everything out.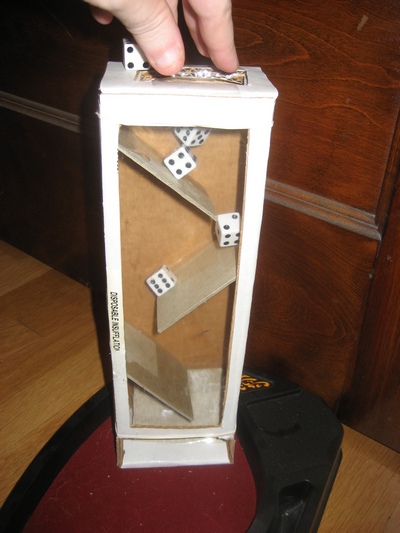 Action shot! The dice go in…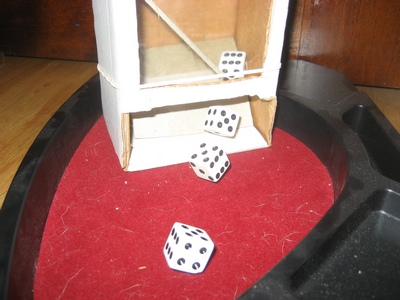 The dice come out, PROPERLY randomized. They're being caught in a dice tray that came out of some thrift store game I got (just for the tray).
Eagle-eyed viewers may notice the words "DISPOSABLE INSUFFLATION" on the side. When I worked at the hospital in my previous life I loved ordering insufflation needles because they came in those boxes, which were the PERFECT size for storing Magic cards. This tower is made from one of the boxes I hung onto. I'll probably decorate it up eventually.
If that's not enough action for you, behold!