Let's start off with a palate cleanser!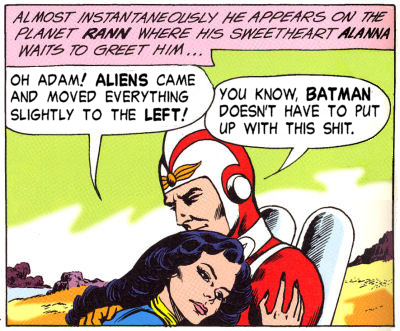 Like slitting your wrists with sharpened candy, it's time to look at the latest Previews!
You know, it's very handy for Marvel to have its own booklet to order from. I don't get it and voila, time is saved for me. Can I request the same thing for Zombie comics, please?
Hellboy Animated: The Menagerie (p. 28) – These books have been crazy fun and a great filler between Hellboy/BPRD trades. Bring 'em on!
Rex Mundi Vol 4 (p. 29) – You know, I'm not sure I ever read volume 3.
Star Wars Episode 4 Photo Comic (p. 45) – OK, call me insane, but a fotonovel of Star Wars? Oh hell yes!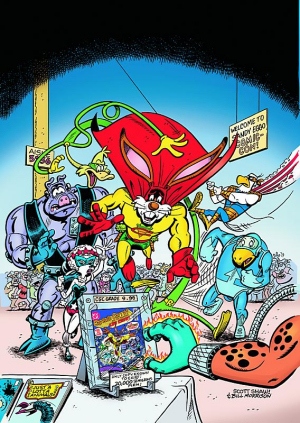 Captain Carrot and the Final Ark #1 (p. 66) – I await this with a combination of glee and trepidation I call "gleepidation".
The Spirit #11 (p. 91) – Word on the street is that Darwyn Cooke leaves after issue 12. Will I leave as well? It depends on who takes it over. I'd certainly stick around for "Rob Liefeld's SPYRYT".
Showcase Presents (p. 98) – On the fence for both of these. Suicide Squad seems a little too 80s comics for my tastes. Secret Society of Super-Villains has some potential, but doesn't really compel me. I'll probably pass on both.
Page 104: This is for you, Brady!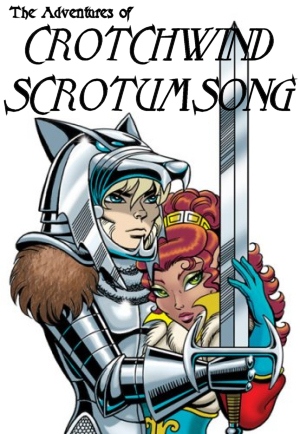 The Vinyl Underground (p. 119) – Ahem. "The Vinyl Underground is led by Morrison Shepherd, a D-list celebrity darling, soul DJ, and son of an ex-footballer." Why they leave out that he's also a "Poker ace" (revealed in the preview pages) is beyond me. Another character is named Perv. Can the British comics invasion be over now, please?
Glister #2 (p. 153) – I like a lot of Andi Watson's stuff but honestly, if I had read the solicit for #2 first, I would not have ordered #1. Pass.
Robocop 3-D Wall Hanging (p. 167) – "This item ships 4 per case. Please call for pricing." So if I'm a comics shop I need to hope there's FOUR suckers who will buy this?
Unique TPB (p. 184) – I've been reading the collected Mr.X, also by Dean Motter, and I was one of the six people who enjoyed both Terminal City and Electropolis. Hell, I bought a freakin' Batman book just cause he wrote it (it was okay.) This is also Motter and thus it tempts me, but I haven't heard much of anything about it. It comes from Platinum "Please Call, Hollywood! Please!" Studios, and it seems like it might be interesting but I just don't know. Anyone?
Myth Adventures Collection: Another Fine Myth (p. 219) – These are good comics but good grief, man, forty bucks? And it doesn't include Myth Conceptions? Does it at least have Winslow?
Dynamite Entertainment (p. 260) – Now this…this is incredible. DE is offering variant covers for Red Sonja and Battlestar Galactica ("Please Inquire" for the prices). What's on them? Nothing!
The idea is, you bring them to a convention and ask someone to draw something on them! Like this:
PLEASE NOTE THEY ARE LIMITED TO ONLY 5,000 COPIES!
Love Bus Stop (p. 278):
"DOES THIS BUS GO TO LOVE?"
"No, it goes to the Mall. You want the Orange line."
"BUT I LOVE THE MALL"
Awesome Indie Spinner Rack Anthology (p. 291) – I love me some anthologies, and with these creators and this price, this is a no-brainer!
Best American Comics 2007 (p. 306) – Speaking of anthologies, here's another one I'll be getting.
30 Days of Night (pp. 310-311) – Please tell me we're somewhere around Day 29.
Wasteland #13 (p. 325) – I have failed and am behind on this. But I will catch up very very soon!
Doctor Who: Voyager (p. 329) – Hey look, another volume of Doctor Who comics I would LOVE to have except they're crazy stupid expensive!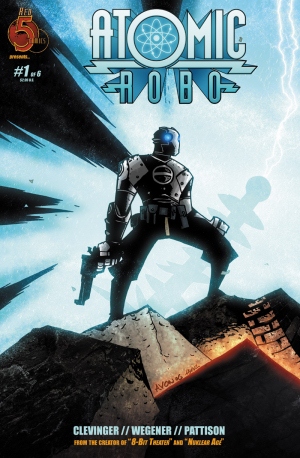 Atomic Robo #1 (p. 334) – "The action-science adventures of Nikola Tesla's automated intelligence machine begin in 1938. Atomic Robo is secretly hired by the U.S. Army to infiltrate the hidden Himalayan mountain base of Baron Heinrich Van Helsingard before he perfects a super-weapon for the Nazis." There's no way I can't get this.
Tales to Demolish #3 (p. 340) – Well, since I ordered #1 and #2…
"Momaw Nadon" bust (p. 471) – Here's a new t-shirt to replace your "Han Shot First!" one:
Chocotto Sister: Choco 1/8 Scale White Cat PVC Figure (p. 490):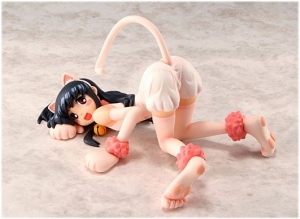 That's it. Get me the fuck out of here.