I burned through a bunch of new graphic novels recently and thought I'd share some opinions on them. There's been a lot of talk on the comics blogs recently about all the stupid things Marvel and DC have been up to, and recently on BoardGameGeek someone decided that a single bad issue of Fantastic Four meant that all comics suck. so, some reminders:
"Comics" is a medium, of which "superheroes" is a genre.
"Superheroes" is not the only genre in comics.
And for the record, there are superhero comics not published by DC or Marvel.
Here are SIX recent graphic novels (also known in academic circles as "big boy comics") that I think are well worth your time.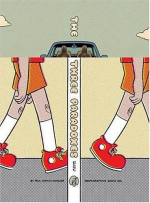 The Three Paradoxes by Paul Hornschemeier. (Fantagraphics Books) I'm not as familiar with Hornschemeier's work as I should be; I've only read Mother, Come Home, but that is probably his most well-known work. I liked that well enough to order this back when it was first solicited. The three paradoxes are Zeno's famous paradoxes, which allegedly prove that motion cannot exist. And for the main character, Paul, motion seems, if not impossible, at least very difficult. He is stuck: stuck at home, stuck in the past, stuck on a comic strip he's drawing, stuck when it comes to simple conversation. The book itself moves very little; even at the end the forward motion is minimal. As such, it becomes a sort of meditation on stuckness (and literally; Paul's father uses meditation — repeated recitation of the same mantra — to achieve peace.) I don't know or care how autobiographical the work may be, but it's worth noting that it was originally solicited about a year ago.


First in Space by James Vining (Oni Press). Monkeys. Space Travel. Two great ideas that should always be combined, and in the late 50s, America was hard at work trying to create the first monkey space traveller. Granted, they had a further goal, something about man on the moon blah blah blah, but this book is the true story of Subject 65, a/k/a Chang, a/k/a Ham, the first monkey in space. I found it to be a delightful read with a very appealing chunky art style. The story is interesting, well-paced, and exciting, and the characters — especially the monkey — are well-defined. It's recommended for ages 7 and up and I totally agree; it's an "all-ages" book that really does have appeal to all ages. I'm very much looking forward to James Vining's future projects, if they're as well-done as this one.


The Professor's Daughter by Joann Sfar and Emmanuel Guibert (First Second). A lovely young lady is walking through Victorian London with a mummy. You'd think this is a premise I couldn't pass up and yet, unbelievably, I did, when I first saw it solicited. I don't know why, as I like Joann Sfar's work, I've been impressed with everything I've read from First Second, and there's a mummy. And yet, I passed on it. And then the reviews came in and everyone couldn't stop talking about how great this book was, so when I picked up my comics I substituted it for another book I'd ordered that didn't get such great reviews (no names here, I'm a gentleman.) Thank goodness I did. This is a wonderful book. Will Lillian and Imhotep IV be able to have a lasting relationship? Will her father come between them? And if not, what of the murder, kidnapping, jailbreaking, and so forth? Will that cause a problem? Will we have to get Queen Victoria involved to sort this all out? This book is going to be on many a "Best of the Year" list, mark my words.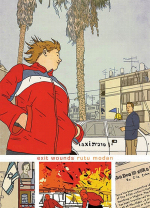 Exit Wounds by Rutu Modan (Drawn + Quarterly). In Tel Aviv, a young man named Koby learns from a woman soldier named Numi that his father may have been killed in a suicide bombing. Whether or not he was is only the first mystery. How does Numi know Koby's father? And how does Koby feel about this, given that his relationship with his father isn't so hot? I really liked the book's nonstandard take on relationships — too often in American culture we're told that family is of paramount importance, and the relationship between father and son is a special, unbreakable bond. Exit Wounds examines these ideas critically, and the result makes for a powerful read. It's especially interesting set against the brightly-colored, Tintin-esque artwork. This is another one that you're going to see on a lot of "Best of" lists.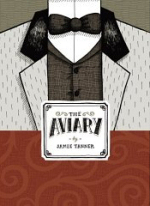 The Aviary by Jamie Tanner (AdHouse Books). Here's what the solicitation copy reads: "Enter the strange world of the Quiet Bird-Man; a world of mysterious corporations, foul-mouthed robots, drunken ghosts, amputee comedians, wealthy simian pornographers and canine scientists; a world of disasters, murders and masquerade balls." And yes, all of that is in here, combined into a richly textured book. It's a series of vignettes, and at first you'll think that the whole point is just weird, absurdly humorous, pointless tales, but eventually they all start to fit together into a whole. (Which is not to say the whole isn't weird and absurdly humorous as well.) The feeling as it all unfolds around you is delightful. It's one of those books where as soon as you finish it, you immediately want to read it again, now that you know.


I Shall Destroy All the Civilized Planets! by Fletcher Hanks (edited by Paul Karasik) (Fantagraphics Books). Wow, just…wow. How to begin? Okay, Fletcher Hanks was this dude who made comics back in the early 40s. About as Golden Age as you can get. He's not overly well known and his stuff hasn't been saved much, but some exists. And that stuff: it's just…wow. His art is dynamic and grotesque, with human proportions that would make even Michael Turner go "Wow, that body is WAY out of proportion." His two main characters, Stardust the Super Wizard and Fantomah the Jungle Beauty have identical powers — they're utterly omnipotent. There is absolutely no tension whatsoever in the stories and no doubt that the heroes will show up and torture, imprison, or outright kill the villains. (And yes, being the Golden Age, these beings with Godlike powers spend their time fighting criminals in three-piece suits, though to give Stardust credit, he does take on 300,000 of them at once.) sometimes they take their sweet time doing it, too. In one story Fantomah happily lets New York City be reduced to rubble before coming in and stopping the perpetrators and then leaving, having done nothing to help restore the city. As a bonus, there's a piece at the end where the guy who compiled these strips, Paul Karasik, tells what he knows about Fletcher Hanks and how he found it out — and there's a very good reason it's at the back of the book. That piece alone says a lot about comics fans. This is another one I originally passed on and then ended up getting based on glowing reviews, and I'm immensely glad I did.


Six graphic works, all of which I recommend, only one of which involves superheroes. Do you like contemporary fiction? Mysteries? Action? Nonfiction? The Unusual? Humor? Romance? Monkeys? Or even, yes, superheroes? There's something up there for you, then.