So let's dive right in!
Hellboy: The Troll Witch and Others (p. 27) – It kills me to wait for trades on Hellboy/BPRD stuff. Fortunately Dark Horse doesn't waste much time getting them out. With Hellboy it's especially sweet when a new volume comes out, since Hellboy comics have been out so infrequently. And to have the new volume be a collection of short stories? Life is good.
Dr. Thirteen: Architecture & Morality (p. 88) – Who was just talking about this on their blog recently? Let's Ask Cerebra! It turns out it was Dorian! Sounds like a probable buy, from his description.
The Spirit #9 (p. 96) – Still enjoying this.
And now, the three second-greatest words DC could say to me:
CAPTAIN CARROT SHOWCASE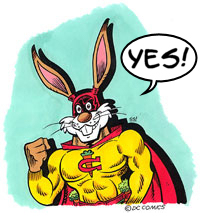 (First greatest words: "Space Cabby Showcase*".) now, I could do some fanboy whining about the lack of color, but I won't push it. They're already reprinting the funny animal book that nobody but me bought, and that's pretty cool in itself. Some people are upset that it doesn't include the Oz-Wonderland War mini, but honestly since I don't care much about Oz or Wonderland, I don't mind.
Emma vol 5 (p. 108) — Apparently this manga I like (shut up!) is headed for controversy. Will they show boobies or not!?!?
Kyle Baker's Special Forces (p. 140) — I…uh…I…buh…
Glister (p. 154) — New Andi Watson! A girl who's a magnet for the weird and unusual! All ages! Could be very fun.
Stray Toasters (p. 158) — Never read it. I feel like I should, but I strongly suspect that after I do, I won't feel like I should own it.
Page 169: "100 million Bon Jovi fans can't be wrong."
Can't they?
Page 181:
You know what's sexier than a woman with absolutely no nipples or vagina? Anything.
Page 293: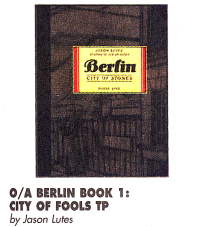 Inadvertent typo or is someone at Diamond harboring a grudge against the German capital?
Have you recovered from Captain Carrot Showcase? Good, because here is:
SCOTT PILGRIM 4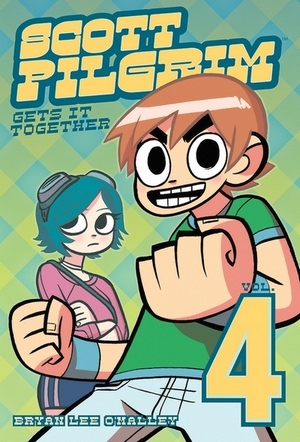 Scott Pilgrim Gets It Together (p. 330) — If you haven't read Scott Pilgrim or don't understand the appeal, please tell us all about it! In great detail if you don't mind! Otherwise, woo! Scott Pilgrim!
Wasteland #11 (p. 330) — Still going strong!
Harbinger: The Beginning (p. 366) — "This classic story of Sting's band of renegade teenagers with extraordinary powers of the mind…took the comics industry by storm in 1992." And nearly took the comics industry out completely in 1993. Also: not that Sting.
Andromeda Stories vol 1 (p. 368) — anyone know anything about this? Worth getting?
Miami Mice TP (p. 379) — It's not easy to give out a "worst item in Previews this month" award, with the field so full of worthy combatants. But this would be up there. It's a $17 reprint of four B&W comics from 1985 that spoof "Miami Vice". BUT, there are ten NEW pages that spoof the movie remake! My question is, which number is lower: the number of people who SAW the Miami Vice movie and thus will understand the spoof, or the number of people will shell out $17 for a spoof of it. Incidentally, this is a "Spotlight On" item.
Now, normally at this point in the show I go something like, "Oh yes, and Fortean Times", but there's become a problem. In the past year or so, FT has been steadily increasing their price. Now, I enjoy the mag and practically read it cover to cover. But it's gotten up to $11.25 an issue, and that's just something I can't ignore anymore. That's crazy expensive. I'm not sure what I'm going to do here.
That's it for this fine, fine edition of Previews. I welcome all your suggestions, anti-suggestions, and comments.
—
* — Actually, a Showcase of ALL the Mystery In Space non-Adam Strange stuff would be awesome!