And now, I interrupt the levity.
On Memorial Day, we honor those who have "fallen" and "given their lives" and "paid the ultimate sacrifice" in battle. That is, the patriotic soldiers who were shot or blown up by the patriotic soldiers of other countries.
On this day, let me say this, and let me say it loud.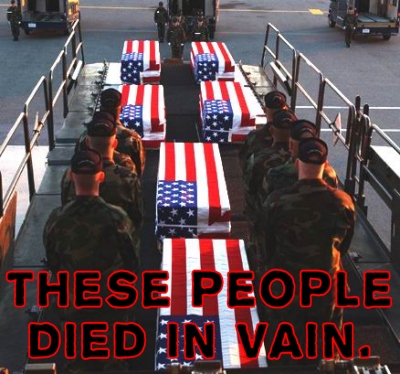 In America we have this idiotic notion that if we say that the Iraq war is a massive blunder, then the dead soldiers will have died in vain, and we can't say that.
Not only can we say that, we must. THEY DIED IN VAIN. And you SHOULD get angry about that because THAT IS THE POINT. They died for no reason, for a lie. And they are continuing to die for no reason because too many people don't get outraged at the lie, they get outraged at the guy saying it was a lie. You should get angry at the people who manufactured "evidence" in order to send the soldiers there. Get angry at how those same people failed to make any kind of realistic plans about how to wage this war. That they ignored countless warnings about the massive catastrophe they were embarking upon. And they continue to keep those soldiers there and hunger to send more because they can never never never take any responsibility for their actions.
And then they tell you that if you say anything about it, you are unpatriotic and hate America and are getting those soldiers killed. So you go along with it. You claim there are good solid reasons for those people to die. And that those deaths are noble and honorable and worthy.
They are not. They are wastes of those peoples' lives. Lives that could have been better spent in other efforts. Lives that, while not valuable to the warmongers, were valuable to their friends and families and communities.
Stop confusing the soldiers with the war. Stop letting people who couldn't be bothered to serve in the military themselves tell you about the noble sacrifices of soldiers. The architects of this war didn't feel that service was worthy of them, yet they insist that you insist it is worthy for others. And because one reckless, ill-planned war is not enough, they now have their eyes on a second target.
In short, you, the war supporter, are sending off men and women to die for no good reason simply so you don't have to admit you were wrong.
It's okay to be wrong. It's not okay to continue to make others die for it. We must stop this war and bring its perpetrators to justice. No one should be allowed to get away with sending people to die simply to feed their massive egos and foolish dreams.
If you truly want to honor those that have died in this war, you will do what you can to make sure no one else dies in it.