When it comes to computer games, I'm a cheapskate. My computer isn't in any shape to play anything that's less than two years old, and I don't have the cash or desire to make it so. There was a time when I was willing to do some kind of upgrade every few months to play the new hotness, but those days are long past. But I do like killing time on the computer, so what's my game of choice?
Diablo II!
It's seven years old, it has almost zero depth, and isn't much more than a frantic clickfest, but it's the game I return to time after time. I can start up and just tool around for a half hour or so, or I can blow an entire evening on it.
I play online, though not with anyone else. I don't know why I do this.
My latest character is a Druid, a character type I haven't played before. My original druid was named Buggleboo, but after I sunk a bunch of points into summoning plants I noticed that the available plants to summon kind of suck. So I started with a new Druid named Uvula. Uvula is designed to do two things: summon a wolf and turn into a wolf.
Here he is hanging with his wolf and his girlfriend, Aliza.
She is not really his girlfriend, she is just his friend who happens to be a girl, ok? He says she's not really his type but actually he's just very shy and awkward when they're not killing stuff together. I haven't talked to her much so I don't know how she feels.
Here's a close-up: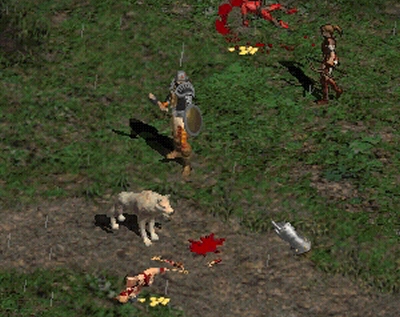 That hand is your cursor in the game. Uvula is gonna go pick up that pile of PHAT L3WT at the bottom by the dead zombie. That zombie won't be needing that gold anymore, assuming he ever did. YOU CAN'T TAKE IT WITH YOU, ZOMBIE.
Speaking of zombies, here's Uvula in his wolf form getting ready to go claw one up.
He doesn't even care about the little goblin guy next to him because he knows Aliza's got his back. I don't know where the wolf is at that point. Probably mangling some guy just off-screen. When Uvula is in wolf form he can talk to the wolf, but did you know he can also talk to him when he is in people form? That is what they teach you at Druid A&M. I've asked Uvula what the wolf has to say but he says he respects the wolf's privacy.
READER RESPONSE QUESTIONS:
1) What years-old game do you still like to play?
2) Why do you think the zombie was carrying gold? What do you suppose he was thinking about buying?
3) If you could ask a wolf any question and have it reply, what would you ask?