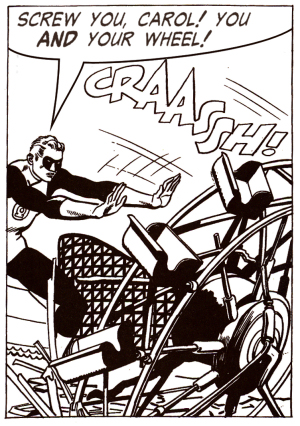 See, his girlfriend's name is Carol Ferris, and…
Time to sift through the parade of pathos that is Previews, the Comic Shop's Catalog!
Speak of the Devil (p. 25) — I'm all for this…in trade. Dark Horse collects everything in trade, so there's no reason not to wait.
The Trial of Colonel Sweeto (p. 35) — I really like the webcomic Perry Bible Fellowship, but I don't think I need a print collection of them.
Serenity Lunch Box (p. 55) — "Joss Wheden's [sic] blockbuster [sic] Serenity has staying power." All factual evidence to the contrary.
Catwoman: It's Only a Movie TPB (p. 73) —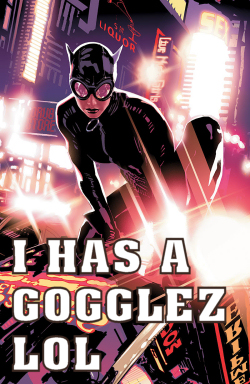 Justice Society of America (p. 84) — The cover of this comic has sparked a storm of outrage by comics nerds who demand an explanation for the suggestion that males might have genitals. Actual quote: "OMFG WHY DOES THIS MAN HAVE GENITALS!?!?" Here's the cover in question:
Fortunately for the penile oppressed, this is just one of two available covers for this book. If they're opposed to seeing sexualized superheroes on their comics, they can get the other one, which features a Power Girl/Supergirl homage:
Showcase Presents (p. 88) — You go to hell, DC! You go to hell and you DIE! After buying two Archives of Adam Strange, you give me a Showcase now? Well I'm no fool, I'm not going to buy these stories again. I'm going to stick to buying Archives! Ha, joke's on YOU! On the other hand, I'll probably go for the Wonder Woman one. You can play a drinking game with it where you drink every time she's tied up and chug when she's spanked! Or…you could just down five bowls of margaritas and be done with it in one go.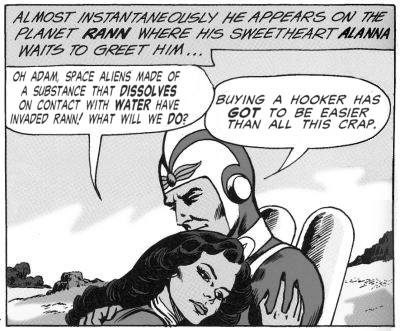 The Spirit #8 (p. 89) — Here's one I'm starting to wish I'd waited for trades on. Not that there's anything wrong with it; on the contrary, it's very good. It's just that I'd prefer it on my bookshelf than in a longbox.
Good as Lily (p. 115) — Does the fact that little DC is putting out interests me other than their line for teenage girls say more about them or about me? But but…Derek Kirk Kim!
Big Plans #1 (p. 234) — A cute looking Xeric-award winning comic, and the price is right!
Doktor Sleepless (p. 239) — I'm halfway tempted by this one, even though it's Warren Ellis and I strongly suspect that the titular character may turn out to be a giant asshole. Fortunately the art looks terrible, so I can easily resist the urge.
Action Philosophers #9: The Lightning Round (p. 298) — "Final issue!" NOOOOOOOOOOOOOOO!
I Killed Adolph Hitler (p. 304) — Does this meet my high standards? Let's see:
[x] is by Jason
It does!
Super Bad James Dynomite (p. 319) — Speaking of drinking games, here's the Previews one. Drink whenever you see an item that is trying to capitalize on a trend that is LONG past dead. "Satirical" 70s blaxploitation comic? Drink.
Dungeon Parade Volume 2: Day of the Toads (p. 330) — Despite being tired of all things fantasy, I love this little series from Sfar and Trondheim.
Persona 3 Aegis PVC Something-or-Other (p. 346) — Seriously, Japan, what the fuck?
Incredible Change-Bots (p. 368) — I'm on the fence about this one. On the one hand, I like some of Jeffrey Brown's stuff. Him riffing on the Transformers could be very funny. On the other hand, I'd be reading a comic by Jeffrey Brown where he riffs on the Transformers. If it were cheaper I might take the gamble, but at fifteen energon cubes, I think I'll pass.
Hikaru No Go vol 10 (p. 388) — This manga about a kid playing Go is the one I own the most volumes of. Who would have thunk that? I would never have guessed this would make it to ten volumes and still be interesting, but there you go.
And finally…anyone? Anyone? Yes, that's right. Fortean Times.
That's it for this round. Until next time,