You can now create new subgenres of speculative fiction by simply putting "punk" after anything. With that in mind, I bring you this, the very first work in a subgenre of my own invention.
One Plus One
by Dave Lartigue

He walked dejectedly near the stream, only halfway paying attention to the various dangers that could at any moment leap from the bushes onto his throat. The darkening skies matched his mood, and the thunder that shook the sky expressed the rage he felt inside.

He had been bested by another male (which one doesn't matter, for what use are names to Neanderthals?), had a potential fertile mate taken away from him and been driven from the good place near the cave. He had been forced to capitulate to another male, and this was unacceptable.

His mind filled with red thoughts of blood and fury as the rain began falling, first in spattered drops and then in fierce torrents. Only now did he react to the world outside his fevered anger, and he sought shelter in a grove of trees.

Without warning a strange feeling overtook him and the hair all over his body became sharp with an unusual sensation. A loud CRACK resounded around him and as he was knocked off his feet he was also blinded by a flash. When he recovered, one of the trees nearby had been turned black, and a strange light came from it.

He investigated this change, sniffing around it. Strange glowing tongues seemed to be inside the remnants of the trunk. He touched one and immediately drew his finger back in pain.

He could only process this new development in one way: if it caused HIM pain, perhaps it would cause pain to that other as well! It was as though someone other than himself — someone perhaps larger than himself, with abilities far beyond his own — had given him this weapon to use against his foes. He would have to think about what this meant. In the meantime, however, he grabbed a nearby branch by the non-glowing part, hopped in his taxicab, and drove off to get his revenge.
Now you can tell your grandchildren how you were there at the birth of Taxipunk, an entirely new fiction subgenre that dares to ask the question: "What if taxicabs existed anachronistically in other eras?" Taxipunk delves into the sociopolitical ramifications of taxicabs existing in places and times that, in actual history, did not benefit from taxicabs.
And it's not limited to written fiction, either! Behold this oil painting I commissioned: The Last Taxicab of Pompeii. The driver is upset that he can only rescue so many people!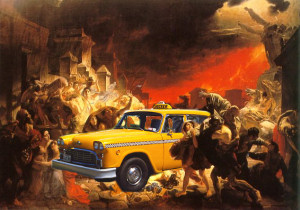 This bold new development is going to frighten some, no doubt. But I think there are others it will excite, as it opens up entire new vistas to explore. So hop in your taxicab and head for anachronism: the world of Taxipunk awaits you!