Yesterday I was part of a caravan of people heading to MASS MoCA (Massachusetts Museum of Contemporary Art) to see a piece on display there, Of All The People In All The World. This piece is a work by Stan's Cafe, a theater company based in England.
The piece consists of rice, measured out so that one grain equals one person, and then piled to represent various statistics, from the large and impressive (Population of the United States) to the small and humorous (a single grain of rice labeled "Condoleeza Rice"). It seems like a very simplistic concept — and it is — but the end result, seeing those statistics in scale with each other, was quite astonishing.
For example, here's a pile representing "McDonalds' Customers Worldwide, Today":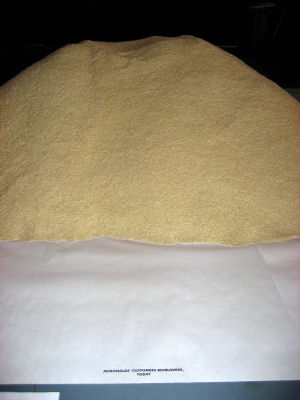 That's pretty incredible, considering that each grain of rice represents a single person. Put it next to a pile labeled "Population of England", which is almost exactly the same size, and suddenly it takes on a whole new meaning.
The juxtaposition of statistics was effective, as well as some of the statistics themselves. For instance, here are "People Killed in Rwanda":
except the caption goes on: "April-June 1994". Three months.
It wasn't all like that, though. Some of the statistics were interestingly displayed. For example, the depiction of Martin Luther King, Jr. giving his "I Have a Dream" speech was laid out so that you could see the National Mall, the Reflecting Pool, and the single grain of rice representing Dr. King. Some were humorous, such as the four individual grains representing "The Beatles".
In addition to all of this, there were periodic announcements of new statistics, and the labcoated Stan's Cafe team would dutifully add a new pile of rice on a labeled piece of paper to the ones on the floor.
It was, in my opinion, the best kind of art. It had an immediate visceral effect and yet was such a simple idea that anyone could have done it; they just didn't.
We then toured the rest of MASS MoCA. Although a lot of the items (including the large Huang Yong Ping exhibit) were things I had seen there before, there were also a fair amount of new exhibits, including Unhinged, works by two artists named Adam Cvijanovic and Peter Garfield. (And even with the Ping show, there was at least one new piece that I'm pretty sure wasn't there before that I really liked.)
It was a pleasant day, we saw some cool stuff, and hung out with good friends.