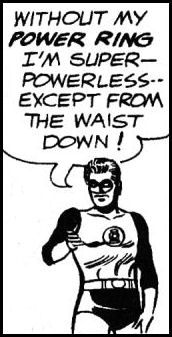 I was going to do something pretty elaborate for this Previews posting to try and get people to read it, but I'll save that for when I have more time and also when I give more of a damn. Meanwhile, here's what's putting a spring in my step out of the latest Previews.
Hellboy: the Companion (p. 24) – Am I losing my mind or was this already solicited? Either way, I'm getting it. I wish Hellboy was MY companion. I like to think we'd get along well, because we're so much alike.
Hellboy Animated: Judgement Bell (p. 28) – And yes indeed on this one as well. Selma Blair, I don't mean no disrespect, but animated Liz is way hotter than real you.
The Plain Janes (p. 64) – Being a teenage girl, I'm thrilled to see someone finally producing a comic for me. And by "comic" I mean "not one of a jillion volumes of available manga or anything not from DC". Seriously, though, this looks not bad, and hey, Jim Rugg!
Showcase Presents (p. 95) – Ooh, two tempting volumes. The Flash is a must, what with him having some the absolute dumbest villains ever. As for The War that Time Forgot, here's a confession: I didn't really gush over New Frontier like so many others did, and I think a big part of it was from me having zero knowledge of this series. So I'm totally looking forward to this.
Madman Atomic Comics (p. 140) – I also have zero knowledge of Madman. To be honest, I'm kinda okay with that. Should I jump onto this?
Optic Nerve #11 (p. 282) – I like Adrian Tomine, though he sometimes leaves me a little cold. I should also grab #8 while it's being offered.
Blindspot (p. 295) – This is exactly the sort of book I should be buying, I think, but it's also the sort of book that's usually #1 on the chopping block when I go over budget.
Wasteland #8 (p. 315) – True fact! I haven't read the last issue yet (sorry Antony).
First in Space (p. 317) – The true story of Ham, the Space Chimp. Wait! Did someone say HAM?
NERD ALERT! I'm totally getting one of these Sonic Screwdriver LED Flashlights (p. 468). I could also possibly use a Talking TARDIS Money Bank (as opposed to, I guess, Sperm Bank?)
And, lest we forget, Fortean Times.
What did I miss?

"Dammit, Ray, your belt's on inside-out again!"