Saturday was the twelfth Unity Games, an all-day boardgaming event held in Framingham (just outside Boston). Representing my crew was myself, Al, Hoover Dave, James, Matt, and Quinn. In addition, our new Colombian pals Nicolas and Erika were there, and I briefly saw my buddy Brian as well. We were there from about 9:30 in the morning until midnight but the time just flew by.
I started out with Blue Moon City, a game I'd had my eye on for some time. It was going on in the teaching area, so Matt, Al, Hoover Dave, and I all learned it. I really enjoyed it, and immediately afterwards ended up playing again with some other folks. It's now on my "to get" list.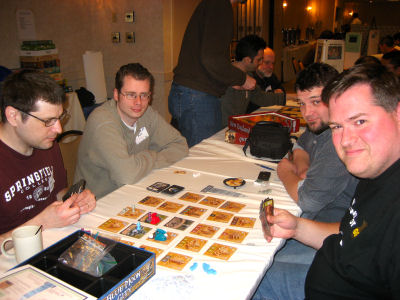 Then it was time for another game in the Teaching Area, but this time I was doing the teaching. I had volunteered to demonstrate Mission: Red Planet, the game I've been fawning over for months now. I made up some player aids and got my spiel down for teaching and taught two full groups how to play it. In both teaching games all five player slots filled immediately, and I probably could (and should) have run two more teaching games with the people who didn't get into the others. Everyone seemed to enjoy the game and I got some positive feedback on my teaching, which was nice.
After that, Nicolas wanted to learn Age of Steam, and I hadn't played this favorite in a while, so I agreed. James and Quinn joined us, and despite his being so broke at one point he was going backwards on the income track, Nicolas pulled out the victory. He went into the game having never played before but thinking he would really like it, and afterwards he was definitely a fan. Erika also made an impressive showing for a first-time player.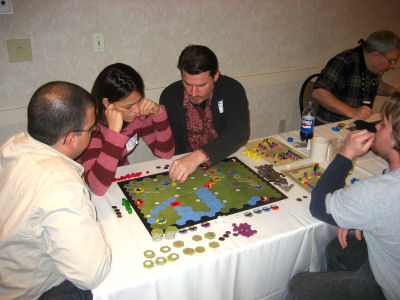 We headed out for some dinner and ate some great Indian food at a place called "Welcome Indian Diner" (or something like that). Everyone raved over their meals. Nicolas and Erika had left before dinner, and Hoover Dave and Quinn left afterwards.
Heading back, we tried out Space Dealer, a "real-time" board game that takes place in exactly thirty minutes and uses sand timers to activate items in the game. It was slow-going learning it, though, since the rulebook was not very well written and/or translated, and I think by the time we were done everyone was a little confused as to what had just happened. The time aspect of the game is interesting, but the rest of it (at least in the basic game that we played) wasn't overly interesting.
Then we wanted something quick, as our own time was starting to run out. I had recently played Downfall of Pompeii and knew it to be easy to learn, quick, and silly fun, so we went with that. The game consists of two parts — first you fill up the city with people, and then the volcano erupts and you try and get them out. There was a lot of trash talking and goofiness as citizen after citizen got chucked into the volcano.
We then finished out the evening with a game of Crokinole that was so sad, the less said about it the better. Though speaking of Crokinole, this was my favorite photo I took at the event: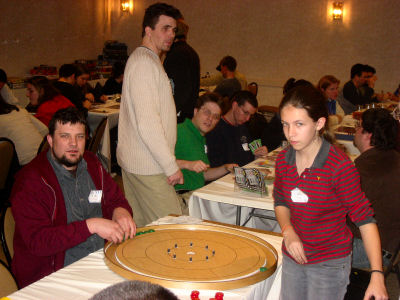 From what I heard, Al spent some of his Unity Games time making little girls cry.
In addition, I did a lot of trading on BoardGameGeek beforehand, with the trades to be delivered at Unity so as to save on shipping. So I walked away with a bunch of new games including a basketball card game that is supposed to be just awful (I put the wrong number down on my trade wants list.) But I also got some good ones I'm looking forward to trying out.
We all had a great time and are looking forward to the next Unity event!