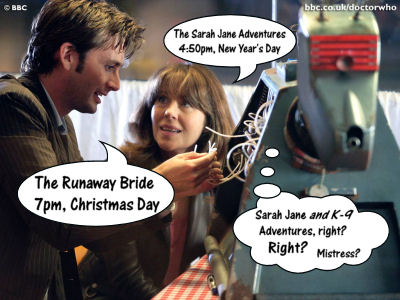 The Runaway Bride is this year's Doctor Who Christmas Special.
The Sarah Jane Adventures is a kid-targeted series featuring the Doctor's ex-Companion. New Year's Day will have a 60 minute special, followed later in the year by a series of ten 30-minute episodes. K-9 will be in the special, but not the series. No love for the tin dog.
Oh, and Torchwood got picked up for another season, but I've heard only very few people who are enjoying it.
No news on when season three of Doctor Who will start (I'm sure, as usual, that we'll only find out a week beforehand), but here's some teasers:
The Doctor and Martha are destined to meet William Shakespeare, blood sucking alien Plasmavores, The Judoon – a clan of galactic stormtroopers and a sinister intelligence at work in 1930's New York.
Doctor Who fever. CATCH IT!