When I make my regular comic shop visits I like to browse through the minicomics that have been made available, and usually I try to pick one up. I've been meaning to write a whole entry on some of my recent (and less-recent) minicomics finds, and I will still do so at some point, but I first wanted to point out a little gem I discovered in this fashion: Teaching Baby Paranoia by Bryant Paul Johnson.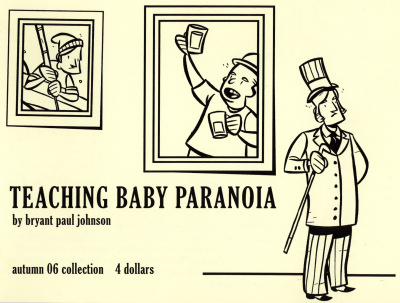 Was it the cover or the title that drew my eye to this book? I'm not sure. Both had their appeal. And when I flipped it open and saw that the stories seemed to be little historical vignettes, I decided to gamble the four bucks and grab it.
I got it home and started to read through the fascinating anecdotes. Each strip also featured a "notes" page that went into more detail about the incident depicted. It was a fascinating peek into little-known corners of history, depicted so sharply and in such detail that it wasn't until several strips in that I suddenly thought, "Hang on…is this true?" I flipped to the back cover and read this:
Includes twenty tales of whaling, witchcraft, gambling, surgery, drunkenness, trickery, poor military planning, nautical disasters, idolatry, broken-hearts, red-tape, politics, recursive narration, non-specific monsterism, vagabonding and prospecting. All of which are heavily annotated. All of which may or may not be true.
Genius.
Here's an example of one of the strips, one I particularly liked (click to make it bigger):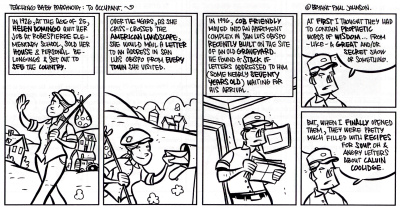 After I was done reading, I craved more! Luckily, Teaching Baby Paranoia is available on the web, and is updated every Friday! You can see it here: Teaching Baby Paranoia
Now, at this point you're saying, "This is all well and good, Dave, but how does it benefit me?"
Behold:
THE
GREAT
TEACHING
BABY
PARANOIA
CONTEST!
Yes, Mr. Johnson (contacted after I'd already written the above review) has kindly offered to provide an AUTOGRAPHED COPY of the above book for contest purposes! And there may be a bit of bonus swag as well!
How can you win a copy? Simply dash off an email to tbpcontest@legomancer.net with the phrase "TBP CONTEST" in the subject line, some time before midnight on Monday, November 20. Only one entry per email will be honored, and the winner will be chosen at random. Neither Bryant Paul Johnson nor any employees, hosts, minions, or assorted hangers-on of Dave Ex Machina are eligible to win.
Get your entries in now! And in the meantime, why not use the comments section of this thread to give us heretofore unknown historical facts of questionable authenticity?