When I talk about comics I don't much talk about Marvel comics. I didn't really grow up on them. I never really found Marvel's offerings to be that interesting. I've read a few of the Essentials phonebooks and enjoyed them, though, so I may need to be reading more Silver Age Marvel offerings.
One thing I picked up when Barnes and Noble was clearing them out at deep discount was Marvel Masterworks: Fantastic Four vol. 1. So I've been reading that and it's a hoot. I particularly like the range of personalities, from hot-headed Johnny to cantankerous Ben to utterly useless Sue. And of course there's the team's leader, Reed Richards, who is a world-class genius. Being able to look at the incredible thought processes of such a gifted man is an exceptional treat. For example, here's how a literal rocket scientist deals with the problem of being framed for crimes by a mysterious enemy and therefore having the entire country turned against you.
1) When the army comes to haul you in, don't resist, even though you can easily get away from them.
2) Now that you're captured, immediately escape and evade the pursuing army the exact way you could have done it instead of being captured.
3) To find the people who are committing crimes as you and thus sullying your good name, you should then, right after escaping, commit a crime. This will trick the enemy into revealing themselves somehow.
4) Do not under any circumstances inform the authorities of the shape-changing aliens who have framed you. That can be done after you've defeated the aliens, simply by telling the police trying to arrest you to come with you to your apartment.
See, I would have tried a completely different way to address that problem. The idea of clearing my name by busting out of prison and committing a crime would never have occurred to me but hey, I just don't have the brains of a guy who breaks into his own rocket project and launches it against orders because "the conditions are right!" That's the sort of thing that only comes from a world-class noggin like that of Mister Fantastic.
But enough of Reed Richards. Let's talk about my Previews order for October. Usual Previews rules apply: bold means something I'm thinking of getting, italics is just something I'm talking about. Advice is always welcome. After the list, I'll give you another bit of wisdom from the Fantastic Four.
The Mighty Skullyboy Army (p. 29) — looks delightfully odd and silly.
Eden, vol 6 (p. 39) — I haven't read volume 4 yet, and this one was starting to go iffy on me, so this one might not happen.
One Missed Call (p. 41) — Trying to figure out which piece of technology hasn't been turned into a Japanese horror movie yet. Anyone done one about garage door openers that somehow foretell death? No? Ok, I got dibs on that one.
I was thinking I'd wait for the trade on Darwyn Cooke's Spirit book (p. 88), but honestly, wouldn't that money actually be better off going towards actual Will Eisner Spirit books?
DC makes a grab at my wallet with TWO Showcase Presents volumes I want: The Brave and the Bold and JLA vol 2. (p. 89) I just finished volume one of the JLA ones, and they're actually pretty formulaic and dopey, but I'm always enchanted by exactly how some incorrect fact about science is wrongly used to save the day. and the Brave in the Bold is Bob "Batman digs this day" Haney.
Chynna Clugston doing a Mad Mod story for Teen Titans Go! is like John Byrne doing "The Flash vs. Some Crazy Old Bastard."
Jack Staff vol 2 is available in trade. This is an excellent book, but read it slowly…at the rate the monthlies come out, volume three is going to arrive just between Duke Nukem Forever and Jesus.
Cowboys and Aliens. (p. 175) "A Graphic Novel Event." "Soon to be a major motion picture." "Online and mobile game premiering in December." That's three sentences that should make me run, not walk, away from this. But with writing by Action Philosophers' Fred Van Lente and a cheap price tag, I'll give it a look-see.
Wasteland #5 (p. 309) — Part of the reason that Eden is losing ground with me. This book is doing a much better job of scratching my post-apocalyptic itch.
Dragon Head vol 5 (p. 336) — Hooray! The fans were successful in convincing Tokyopop to let us keep buying their book!
Fortean Times #218 (p. 365) — blah blah need to subscribe yadda yadda.
You COULD pay ten bucks for a copy of The Eye of Argon (p. 375), allegedly the worst science fiction novel ever written. Or you could download it.
And now that you didn't buy The Eye of Argon, you can put that ten bucks towards Mugglenet.com's What Will Happen in Harry Potter Seven? (p. 379) in which you can actually purchase a bunch of internet geeks' speculations about what's going to happen in an upcoming book.
Page 417 broke my irony meter. It features three rock and roll star statues: John Lennon, Kurt Cobain, and "Iron Maiden: Live After Death". One of these things is exactly like the others.
There's a bunch of Doctor Who toys and gadgets in the import section (pp 466-467), and damned if some of them aren't downright tempting. I think, however, that someone at Diamond messed up one of the photos: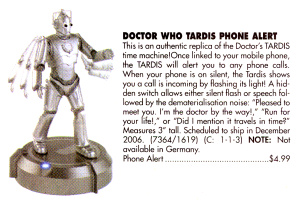 I have to admit, though, if I could get a cyberman statue that flailed its arms around to let me know I had a phone call, not only would I get it, but I'd actually enjoy it when people call me!
You know, I love the movie A Christmas Story as much as the next guy but…you know, maybe the next guy loves it more than me. (p. 486) Wow, they've really run that whole "leg lamp" thing into the ground, haven't they?
Okay, for your patience, I give you some more wisdom from the Fantastic Four.
If you ever find yourself with amnesia, unable to remember who you are, ask yourself these questions:
1) Am I abnormally strong?
2) Under my clothes, am I wearing green, scale-mail swim trunks?
3) Are my ears unusually pointed?
4) DO I HAVE LITTLE WINGS COMING OUT OF MY FRIGGIN ANKLES?
If Namor had asked himself these questions before Fantastic Four #4, he could have saved himself and everyone else a lot of trouble.