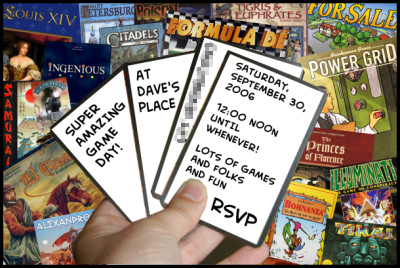 Yesterday was my Super Amazing Game Day! I had planned this event for a few reasons. First, I like to play games. Second, I wanted to thank the folks who have hosted gaming at their place for so long. Third, I game with a bunch of different people, but never all at the same time, so this was a chance for some of them to meet each other. In addition, I got to meet two new people, which was great.
We stocked up on the critical supplies we would need for this undertaking: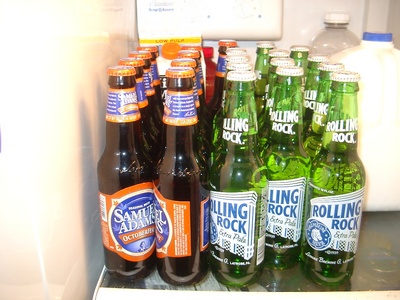 Though with everyone kindly bringing chips and drinks and beer and herring snacks there was no shortage of snacks and beverages! We also had a few games: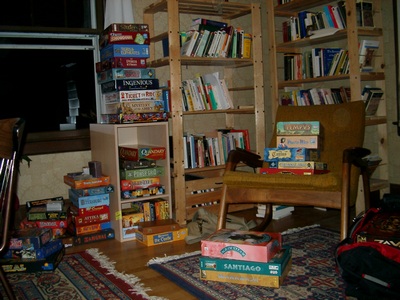 And then guests arrived and the games began. In attendance were me, Dan, Matt, Quinn, James, Al, Parnell, Hoover Dave, Bob, Mike, Nancy, and Brian.
Let's see if I can remember all that was played. Hoover Dave, Matt, Dan, and I started out with Quandary. Then the James Gang showed up and two games started. One group played Vegas Showdown while the other group played Java.
When Vegas Showdown ended, Java was still going, so we decided to teach Dan how to play Tigris and Euphrates:
Unfortunately Dan was more schooled in T&E than taught (it's a tough game to pick up). About this time Bob, Mike, and Nancy showed up, and Bob started up a Daytona 500 game out on the back porch:
After a dinner break for some food from the Jackie Chan Jack Chen Chinese Restaurant, Bob taught Nancy, Parnell, Hoover Dave, and myself how to play Boomtown, which we all really enjoyed.
Some folks had to split by then, and we split again into two games. Matt taught people Serenissima,
while Quinn and Brian and I tackled Dschunke:
There was even a door prize of a copy of Travel Blokus, which James won: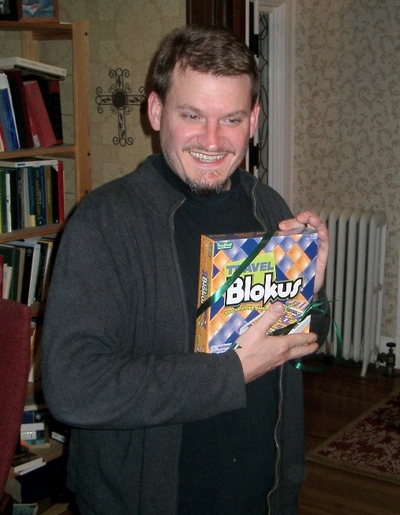 I certainly had a great time, and I think everyone else did too. It was fun to do something kind of larger-scale like this, and I'll probably do it again at some point.
It was also nice meeting Matt and Bob, who I hooked up with through Board Game Geek and who I'll hopefully be doing a lot more gaming with.
One final photo, here's Al: