In addition to the nice card Sydney made me, there were:
Cake: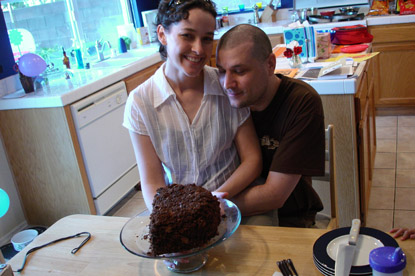 Becky (with help from Anne and Sydney) made me this delicious cake, based on a McKenzie's "Blackout" cake.
Guns:
Then Stewart and I headed over to American Shooters for some handgun firing! Stewart selected a Sig Sauer P229, while I opted for the 9mm Glock 34. After a while, we swapped.
Stewart took a video of me shooting the Sig Sauer, which you can download here.
I also got cards and well wishes from friends and family. It was quite the Happy Birthday!