I wasn't kidding before when I mentioned a free eye exam being one of the perks of Vegas. Stewart is a licensed Opthalmologist, and yesterday he treated me to a special VIP eye examination. It was determined that my left eye is noticably weaker than my right eye, and that my lens prescription needed some updating, so that means new frames!
I tried several on for looks but we're torn as to which one is the best. Perhaps you'd like to voice your opinion. (I apologize in advance for a lot of pictures of my big goofy head here.)

Option one is the stylish Eschenbach 3683, in matte blue.

Followed by this model from famous designer Hugo Boss

The third option brings out my dangerous side, and is from Harley Davidson

Option four is from…well, we don't know the designer. All it had on it was "ClipShades". And as you can see, it's a stylish pair of glasses with magnetic clip-on sunglasses.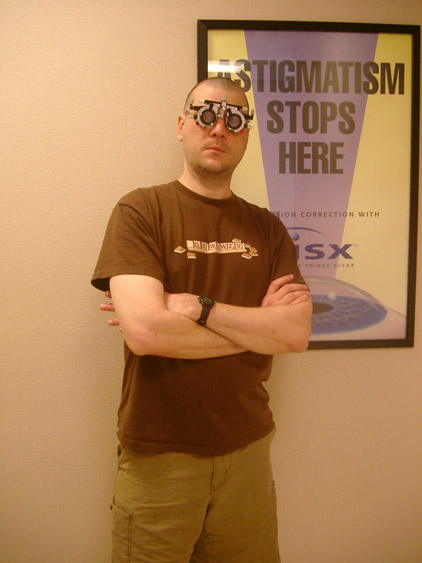 This is without a doubt my favorite pair, the trial lens holder, but alas, its steampunk stylings aren't for sale.

Stewart also gifted us with these swanky shades, intended for people recovering from cataract surgery. Who says eyewear and glamour can't go together?
So let me know which one you prefer, but quickly! I need to get my order in!