We rolled into Las Vegas last night at around 9:00 (midnight our time) and were met at the airport by Anne. We weren't as tired as I thought we might be, what with always being tired after travel and being old fogeys who retire at sundown anyway.
Las Vegas doesn't fool around, people. I kid you not, this is what you see in the airport as you literally step off the plane:
Anne took us home by way of The Strip, and I took a lot of pictures, of which this photo of the New York New York was the only one that came out as anything but a moving blur of lights:
We visited a little with Anne and Stewart (Sydney had a more traditional Lartigue bedtime) and then retired for the evening…
But this morning we awoke ready for action, and action we got! First, a stop at Commander's Palace for a beignet-and-bacon breakfast:
And then… AQUA-MASSAGE!
Anne treated me (Becky insisted she was too full from breakfast) to ten minutes in the amazing Aqua-Massage pod!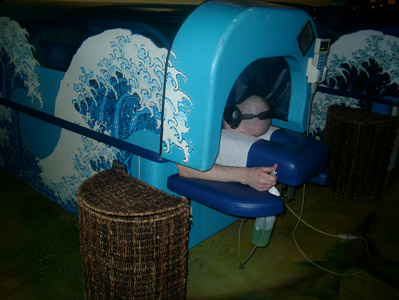 This is a device you lay down in and then powerful jets of water move up and down your back pounding you with soothing force. But since there's a protective layer of plastic between you and the water, you amazingly do not get wet! I have no idea why Becky opted out of this relaxing and refreshing activity! I totally want to buy one of these for our home now.
If that weren't enough, the package we selected also came with ten minutes at the Oxygen Bar!
I've been enjoying breathing oxygen for a while now, so I wasn't really sure what benefit I'd get from the oxygen bar, but as you can see in the picture I found it quite invigorating! Not only did I enjoy all four varieties at the "station" where I was plugged in, the woman let me switch to a different station to try more!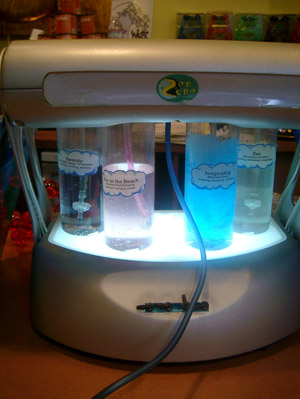 The oxygen was joined with a back and head massage, which was also great, especially the head one, done with a combination metal spider and whisk. One of the back massagers had no fewer than sixteen magnets in it which combined their mystical power to make my back feel a little bit of all right.
Now that I was all hopped up on O2, it was time to spend some money. I played a buck's worth of some kind of shrimp slots game that I didn't understand, but then we hit video poker, where I was able to make a single dollar last a few rounds before losing it all. Becky was much savvier and walked away with winnings: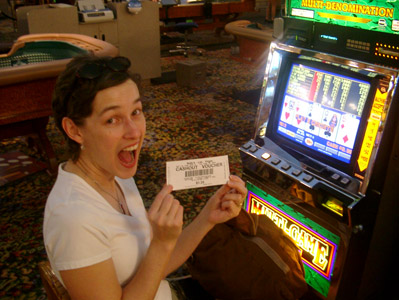 She's now $0.25 up in Vegas, while I'm down two dollars.
We headed home after that and played the Angelina Ballerina game with the Sydster.
Now we're chillin' and grillin' and getting ready to hit the Strip again this evening for a real life Vegas show!