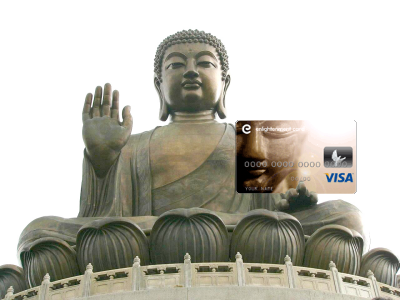 The origin of suffering is attachment.
There is no better illustration of this noble truth than the new "Noble Truth" Visa Enlightenment Card.
More than just a credit card, the Enlightenment Visa Card is a card for people who want to make a positive difference in their world.

As a member of the Enlightenment Reward Card program, your purchasing power goes to support the things that matter most to you. Enlightenment Card members can earn points with every dollar they spend that will enhance their life and change the world around them.
A credit card that will change the world in a positive direction! Wow, tell me more!
Enlightenment card members can earn points that can be used to help themselves grow at some of the best retreats, workshops and classes that are available around the world. Points can also be redeemed for merchandise, gift certificates and much more.
Oh. Through buying shit. Every dollar you spend nets you 1 (one) Enlightenment Point (EP).
If you're looking for a way to make a more direct contribution to the planet, you can choose to donate Enlightenment Card rewards points to your favorite nonprofit.
Alternatively you could just, you know, donate to them directly.
And with the 15.99% interest rate, you may even pay off the card before your next cycle of birth on the wheel of karma.
However, for those who aren't down with the Buddha, there are other designs to choose from. No matter what your spiritual and religious path may be, Visa's ready to make some coin off of it.
Golden Buddha – 18,500 EPs
Om Rocks – 1,200 EPs
Wooden Meditation Bench – 4,595 EPs
Being free of suffering by removing attachment – Priceless
(Hat tip – Deirdra)