This is a picture from BoardGameGeek that someone submitted for the game Carcassonne – Hunters and Gatherers.
You can click on it to make it larger, if that be your will. It's a staple of jokes on there, and has been included on the "Creepy Pictures on the Geek" Geeklist. Until recently I had never desired to see it large, so I had never noticed the creepiest detail at all about it.
The composition and lighting of this photo is such that the gentleman who is front and center dominates the entire picture, even though there's more going on. In fact, though I was familiar with the picture and had seen it several times, until recently I couldn't tell you what game it was for; that detail had been overshadowed by the guy. Because of this, I had not noticed this:
What the hell is going on in the background? Let's zoom in up there and brighten it up.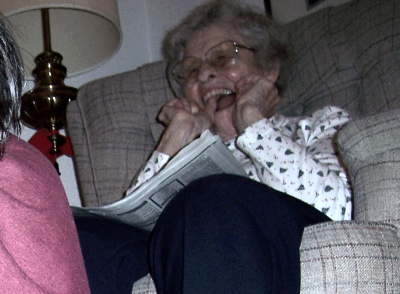 Dear god, what is grandma doing?
This picture just got WAY more horrifying for me.