Looks like it's time to bring this out again: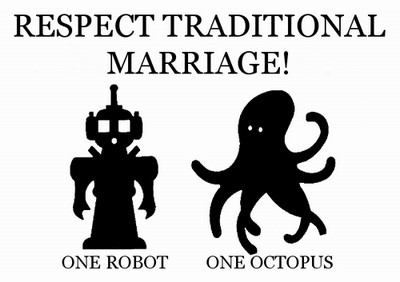 Once again, it's time to rise up against the unchecked threat of homosexuality. Faced with abysmal job ratings, scandals exploding all around him, a disastrous war that's gone out of control, and former supporters chiding him for being too liberal, Bush is doing what he does best: telling people to look out because something's gonna get 'em!
I have a serious question for any conservatives in the audience.
Aren't you tired of being afraid?
Seriously, guys, let's think about this. Terrorists. Gay people. Saddam Hussein. Liberals. Islamofascists. The Media. Osama bin Ladin. Immigrants. Feminazis. Child Pornographers. Secularists. Hollywood. Hillary Clinton. University Professors. Is there anyone who isn't out to get you?
You're a funny bunch. You like to talk about "Chicken Little" and "tinfoil hats" but every person in the world who isn't exactly like you is marshalling forces to destroy your sacred way of life. You're supposedly brave and steadfast and have the strength of ten because your heart is pure, and yet you're constantly looking over your shoulder because you thought you heard a noise. You supposedly distrust the government and yet every time they say "jump" you say "at what shadow?"
Ever since 9/11 this administration has done nothing but tell you to be afraid of something or other. Sometimes several things at once. In fact, they even made a handy color-coded chart to tell you how scared you're supposed to be, and it's never been below "pretty scared." Every grab for power they've done, every civil right they've walked on, every line of the Constitution they've crossed out has been in the name of protecting you from the things that go bump in the night.
Aren't you tired of it? Haven't you had enough? In your everyday life, wouldn't you be just a little bit suspicious of someone who kept telling you, "Trust me, it's for your own protection."?
Aren't you ready to be treated like a grown-up?