I really dig the boardgame Formula De. It's a fun, frantic auto racing game that's all about the VROOM VROOM SCREECH VROOM OH NO LOOK OUT SQUEAL CRASH VROOM!
The only drawback to the game is the sheets you use to track your car's damage. during the race, you'll use up brakes, tires, fuel, and so forth, and it's kind of a waste to have all these little sheets of paper logging all this.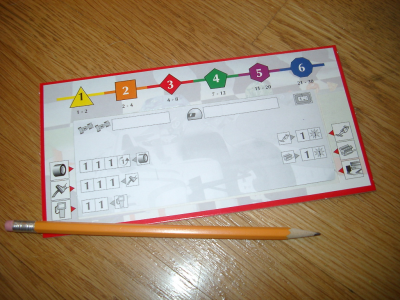 I figured there had to be a better way, and thus I set out to find that better way. I imagined a cardboard thing with pegs in it. No pencils needed, just move the peg! So on Friday I headed over to Michael's craft store looking for supplies.
Instead of cardboard I got foamboard, thinking that would be easier to work with. They didn't have any plastic pegs, so I grabbed some little wooden beads and balsa sticks. Armed with these and the sticky-backed printer paper I had at home, I was ready.
I scanned in an existing score card and sheet. I then improved it some.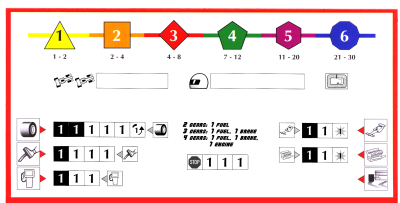 (You can click on that to get a full-size image you can use to do this project yourself.)
You can see a little detail I added. The amount of tires, brakes, etc. that you get is different depending on if you're driving a one- or two-lap race (You get more for two laps.) In that picture, the first two tire slots are black, followed by four white squares. So if you're running one lap, you start at the first white square, if two laps, first black square. One card for either type.
I printed it out on the label paper, stuck that on the foamboard, cut it out, punched holes, made wooden pegs, and behold the results:
Pretty slick, huh? That's the prototype, so I might make some more changes before I move forward.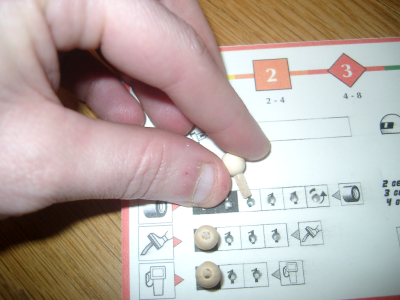 There's one of the wooden pegs I made.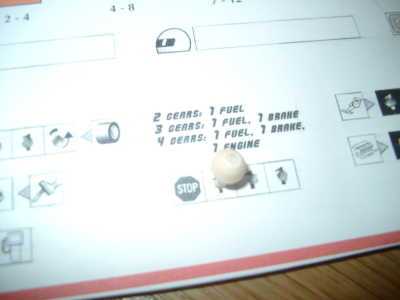 These are the two improvements I made to the card. At the top is the cost of downshifting more than one gear, something we're always looking up in the rulebook. Now it's right there on the card. Underneath that is another row for keeping track of how many times you've stopped in a curve.
I haven't decided yet if I'm going to continue with the foamboard or switch to cardboard. It's super easy to punch holes in the foamboard, and it's nice and sturdy, but it's hard to cut out the squares and still have it look nice. The edges get chewed up pretty easy if your blade slips. The other advantage to the foamboard is, I already have it here.
Total cost, not counting printer ink, was six bucks, plus however much the sticky-backed printer paper costs (I bought it a long time ago for something else, so I don't remember.) In addition I used an exacto knife, some very fine sandpaper for the pegs, and a little screwdriver for poking the holes. Little cost, little effort, big improvement, in my opinion.