Remember remember the second of November? Get out and vote! Make your voice heard! If you don't vote, you can't complain!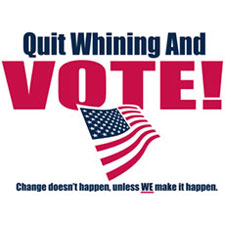 Yeah, well, it looks like none of that might apply anymore. Because here's the thing: there's a very good chance the 2004 election was rigged.
"Oh Dave," you say. "Take off your tinfoil hat! Will you Democrats just let it rest? Bush won, get over it! Why should we listen to you, you whiny liberal Liberal Whiner?"
Meh, don't listen to me. Listen to these folks:
..and now:
And what is this insider — who we'll call DIEB-THROAT if it helps get your attention — telling you, America? Only what you already should have known. What even the U.S. Department of Homeland Security already acknowledged in full prior to Election 2004: That your Electoral System, now wholly privatized and run by the "Halliburton of the Voting World" — is, and has been, open and vulnerable to be rigged by one — just one — malicious person. Not "a conspiracy of many." Just One.

DIEB-THROAT — someone who knows and works with them — tells us, in a BRAD BLOG exclusive that I recommend you actually read, that the Diebold system is "one of the greatest threats our democracy has ever known."

DIEB-THROAT tells us — and the U.S. Dept. of Homeland Security agrees — that "one malicious person can change the outcome of any Diebold election."

DIEB-THROAT is warning you. The U.S. DHS is warning you. I am warning you. The FACTS are warning you. So what will be your excuse next time?
We don't know for certain if the election was stolen. There's certainly a big stink coming off of it. I certainly have no doubts that there are enough morons in this country to legitimately give Bush a victory. The fact of the matter is, the 2006 and 2008 elections can be stolen. Easily. And nobody cares. The alleged liberal mass media is completely silent on the issue. The Republicans shrug off any questions as "sour grapes". The Democrats huddle meekly in their cage, terrified of alienating people who don't like them anyway. Not a word is said as we say goodbye to true democracy.
And what do you do about it, if it's true? If the allegations are true, then really, what's the answer, short of taking up arms? Voting to restore democracy? Telling your Democratic leaders to investigate this or else you'll stop casting votes for them that aren't counted anyway? Tell the Republicans in charge to assure you that everything's fine? How do we demand answers from a government that has lost all interest in listening to us?