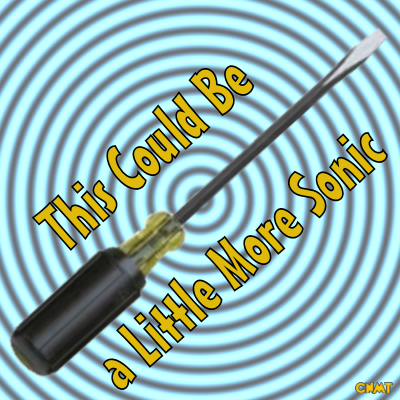 Behold the 27th entry in the Cool New Music Tape Series: This Could Be a Little More Sonic. I've finally finished paring down the list of possible songs and ordered them in an aesthetically pleasing manner! The title comes from the new Doctor Who series, and the songs come largely from Seattle's KEXP. Here's the lineup:
EPISODE ONE
Doctor Who – Ninth Doctor Theme
The Go! Team – The Power Is On
OK Go – What to Do
And You Will Know Us By The Trail Of Dead – Worlds Apart
Beck – Girl
Snow Patrol – Wow
M.I.A. – 10 Dollar
Kasabian – Processed Beats
Phofo – I Love Meatballs
Her Space Holiday – Something To Do With My Hands
Joy Zipper – Baby You Should Know
Echoboy – Comfort Of The Hum
Brazilian Girls – Don't Stop
Stereo Total – J'aime l'Amour à Trois
The Guild League – Animals
Fountains Of Wayne – Supercollider
Rilo Kiley – The Execution Of All Things
Matthew Sweet – Push the Feelings
The Metric Mile – How to Beat the SAT
Nada Surf – Killian's Red
EPISODE TWO
Franz Ferdinand – Take Me Out
Interpol – Evil
The Arcade Fire – Wake Up
Ben Folds – There's Always Someone Cooler Than You
Of Montreal – Requiem For O.M.M.2
Graham Coxon – Bittersweet Bundle of Misery
RJD2 – Ghostwriter
Earlimart – 1st Instant/Last Report
Splashdown – Mayan Pilot
Chemical Brothers – Marvo Ging
The Avalanches – Frontier Psychiatrist
The Mountain Goats – The Young Thousands
Built To Spill – You Were Right
Weezer – Perfect Situation
The Postal Service – Such Great Heights
Vienna Teng – The Tower
Cake – Palm of Your Hand
Rogue Wave – Endgame
Mmm-mm, that's some mighty tasty tunage! And with the songs that didn't fit on this one, I'm halfway to the next one.
This could be a little more sonic. Because, honestly, couldn't everything?