Lately I've been playing with Google Maps. Perhaps "playing" isn't the correct word for that sentence so much as "obsessed". Spurred on by the Google Sightseeing blog, I have whiled away many hours just scrolling around the world, seeing what there is to see.
I started where most people would start. My home and my work: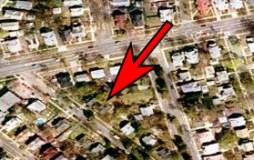 (Of course, since I work from home now, the left picture applies to both.) As you can see, the area my home is in is available in high-res. Work, not so much. Of course, being a tremendous geek, I also found my comics store: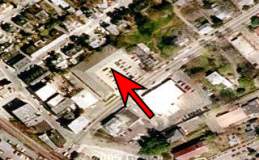 I then found a few places I've been to:

The Pentagon dorms at LSU, where I used to live.
Google Maps link

The Duomo in Florence, Italy
Google Maps link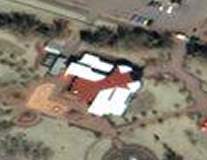 The Insectarium at the Botanical Gardens in Montreal. It's shaped like a bug!
Google Maps link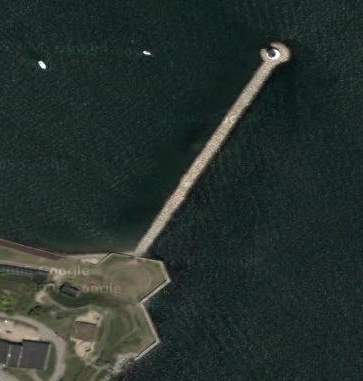 A lighthouse in Portland, Maine.
Google Maps link
Those were things I found that weren't already featured on the Google Sightseeing blog. Next I went hunting around for other stuff I thought might look cool.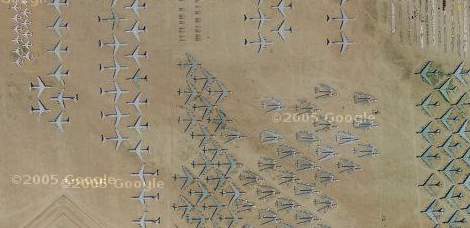 The Boneyard, a/k/a the sacred airplane burial ground, in Arizona. Scroll around a bit and just appreciate all the stuff there.
Google Maps link

I wanted to see some aircraft carriers, so I headed over to the Naval shipyards in Norfolk, VA.
Google Maps link

Next, I wanted to find a hedge maze, so I googled for the biggest one. Turns out the Dole Plantation in Hawaii has a huge one, with a pineapple in the middle.
Google Maps link

A big radio telescope was also on my wish list. Here's Jodrell Bank in England
Google Maps link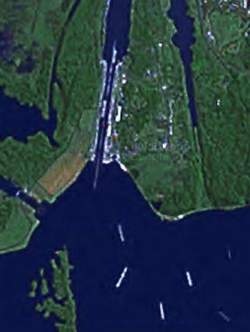 The Panama Canal isn't in high-res yet, but you can still make out the locks and the ships nearby.
Google Maps link

If you're extra bored/captivated, just find a random high-res area and scroll around. One of the popular pastimes in Peru is writing on the mountains. Compare with the houses to see how big those letters are.
Google Maps link
I've also looked at the pyramids, major cities across the world, tried to find a whale (not successfully), found weirdness in the Libyan desert, and a bunch of other things, but many of those are also covered on the Sightseeing blog, and besides, it's fun to find these things on your own. It's really fascinating, and I've only just begun poking around. Let me know if you find something really cool as well, or if you have any requests/suggestions on stuff to look for!
UPDATE: Another site for finding things to look at: Sightseeing with Google Satellite Maps