Comics! Yes, I have been reading them, even if I haven't talked much about them lately. In fact, let me tell you about three comics in particular I think you should take a look at.
Sexcastle, by Kyle Starks, is an action-adventure book about Shane Sexcastle, a renowned assassin, Secret Service agent, and framed convict who is trying to leave his old life behind, but his past has found him! This is a genuinely hilarious homage to 80s action movies, but because Kyle Starks is a good writer, it's not just a stream of "lol, ninjas!" jokes. In fact, beneath the tattooed and scarred skin of the story beats a warm and human heart, as Sexcastle genuinely tries to become a better person. It's one of the best graphic novels I've read in quite some time. Right now it's available in limited quantities for $20. Definitely worth it, and while you're there, you'd do well to buy his other books too.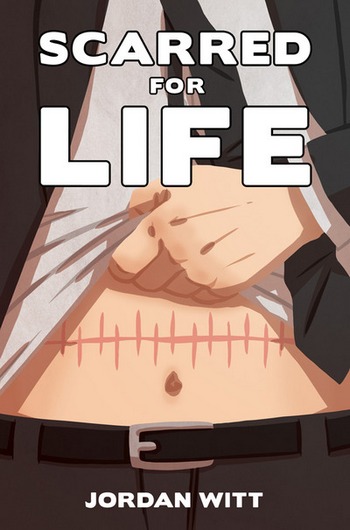 Scarred For Life is by Jordan Witt, is a tough book to describe. A pair of FBI agents (as well as an intern) are handling typical FBI tasks, only here's the thing: one of them has some kind of alien mouth on his stomach and no one, including him, is really sure what it is or how it got there. As you can imagine, that adds a little extra level to the goings-on. The characters have a great chemistry (I loved the dialogue) and react to the stomach-mouth in a fairly realistic way with regards to trying to figure out what it is and what it can do. Scarred for Life is a bunch of fun and you can buy it here for $15. Once again, I suggest you also pick up some of Jordan's other comics, like Haint Hasslers and The Pretzel.
2299, Volume One is a digital anthology of science-fiction comics, edited by Dylan Todd, and featuring writing and art by Nolan Jones, Timothy Weaver, Andrew Weiss, Keith Pille, Kyle Starks, Derek Charm, Kevin Church, Jordan Witt, Carlos Aguilar, Caleb Goellner, Max Huffman, Max Bachhuber, Josh Trujillo, Lonku, Josh Krach, Matthew Digges, Robert Wilson IV, and Dylan Todd himself. Whew! It's a great collection with stories of varying tones and styles. I was going to highlight some of my favorites, but honestly there wasn't a bad one in the bunch. And the best part about it is, it's available here for only two bucks!
Full disclosure: I "hang out" with a bunch of these folks on Twitter. However, I'm not just praising their stuff because they're pals. On the contrary, I value them as pals largely because they are able to make such great stuff. I'm lucky to know such talented folks. I genuinely urge you to check out these books; they're well worth your time.