Over on Fortress: Ameritrash, Nate Owens posted his countdown of his twelve favorite boardgames ever, a process he revisits yearly. While I've done a yearly roundup of my top games of the year for some time now, I've never really done an all-time favorites list, so I thought I'd give it a try.
What's more, I'm attempting to list them in order, which makes it even harder. As you can imagine, take this with a grain of salt; I'd probably have a different list if I made it next week.
(Numbers 12-7 are here)
#6: Lords of Waterdeep
A possibly controversial choice, given its newness, but I can't deny the amount of play its gotten. Maybe it doesn't bring anything new to the table, but it does such a great job of the old. The rules are so streamlined and straightforward that it's a breeze to teach and learn. It plays just as well with 2 as it does with 5. The recently released expansions do a great job of extending the base game without adding a bunch of unnecessary junk. The iOS version that just came out is beautifully done. And it does all this without gears, mancalas, dice rolls trying not to be random, catapults, bailiffs, trapezes, and other gewgaws to make it "interesting". In short, it's a solid, playable, fun design that just plain works. I got two other worker placement games around the same time as LoW but both have been overlooked because this one is a choice it's hard to ignore.


#5: Merchants and Marauders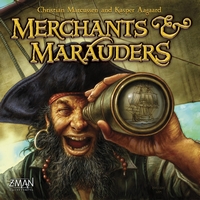 Look, I can push cubes with the best of them. I've optimized so many efficiency engines that I should have honorary physics degrees and an MBA. I've placed so many workers that I receive GOP mailings addressed to "Dear Job Creator". But sometimes what I want to do is move a big plastic pirate ship on a board and fail to find merchants. Merchants and Marauders is a glorious mess of a game, full of randomness and excitement. It can be long and if the dice or cards aren't going right for you it can be painful. But it's always fun, it's always a good time, and you always feel like something happened when playing it. You can play as a notorious pirate or a law-abiding merchant and have good chances at winning both ways, and fun either way as well. The last time I played this game I did terrible: a guy who killed two of his captains off because of ill-advised warmongering still had two more points than I did as held my telescope the wrong way (not even backwards. I seriously must have been holding it sideways) and scanned the horizon. And yet, I'll happily play again next time it's suggested. Just a great time.


#4: Small World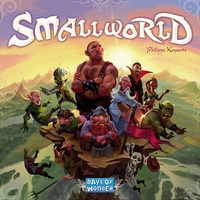 There are people in this world who don't like Small World, and I honestly don't understand why. It's a great, clever design with easy rules and tons of replayability. Every game is almost guaranteed to give you a new wacky combo to love. It's got simple yet brilliant things like a cardboard mountain that goes in mountain tiles and do nothing except preserve the rule that a space requires 2 tokens plus an extra token for each piece of cardboard in it to conquer it. I consider the design so well done and so tight that I'm not crazy about its companion, Small World Underground, because I think it adds unnecessary wonkiness to the rules. I think this is a brilliant gem of a game.


#3: Power Grid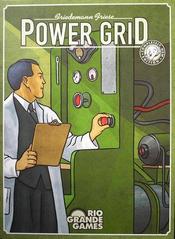 People who know me are probably surprised to see this at #3, as opposed to #2 or #1. I love Power Grid. I've gotten hold of nearly every board, promo card — even the "Robots" expansion which I'll never use. I haven't yet played all the maps and I don't even like many of the promo cards, but I have them and I'll keep getting them. It's the only game I'm a completist with. I came for the cover and the art style but I stayed for the gameplay. And yeah, I know the complaints about how mathy it is, about how you can calculate your best move, about how the final turn can be a foregone conclusion, but I don't care. I thoroughly enjoy the game, and it will always have a place on my shelf.


#2: Steam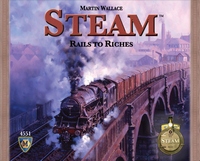 One of the first "gamers' games" that blew me away was Age of Steam, a game with a brass-knuckles economy just waiting to destroy your plans. It was about as tense as I thought a game would get, and for a long time I celebrated not winning it, but simply having a turn where I actually broke even. Steam is a kinder, gentler version of Age of Steam. The economy is not as unforgiving and the rich-get-richer auction from the original has been removed. And for my money, it works a whole lot better. I still get the same amount of tension and the same strategic challenge, but I feel like I'm playing against the other players instead of the game itself, something I never got good enough at the original to feel. I think it's a fantastic meshing of design elements and unlike many other Martin Wallace games it plays more like a game more than like just a set of rules on a map. I don't need to be regularly pantsed by a game to enjoy it, and I think Steam does its job much better than its savage ancestor.


#1: Magic: the Gathering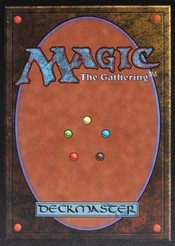 There couldn't be anything else here, even though I haven't played it in person for years and even sold off all my cards. As I've said before, pound for pound and dollar for dollar, I've had more fun with this game in my lifetime than anything else, even if I never touch it again. I was never that great at it, but I loved poring over the cards, looking for neat combination, building Rube Goldberg decks or trying (and usually failing) to make sleek, rocket-powered death machines. I loved thinking about Magic, talking about Magic, arguing about Magic, and playing Magic. I loved the blind purchases of the boosters, the thrill of seeing a card you hadn't seen before. I loved the mythology behind it, piecing together the story of Urza and Mishra from the snippets of flavor text on Antiquities cards, long before there was more mythology and story than anyone knew what to do with. I loved designing my own cards and once, my own set. I got out of Magic out of necessity and stayed out because I knew it would be hard to stop again if I started back up. I still have the iPad and Xbox games and enjoy playing them, though I know better than to get too attached. When I see new Magic releases, I still have to quell a little voice in my head reminding me of how much fun it was. But more than just an addiction and obsession, it's just a fantastic game idea, one that I never found bettered in its own genre. I played and endured a lot of knock-offs during the CCG fad and walked away amazed at how much Richard Garfield got absolutely right on the first try. Magic really does feel like a universe, big enough to house any number of play styles, from the ultra-competitive to light and casual. It's a game where two people can play the exact same game completely differently. I really think it's the best of the best.


GAME ZERO: Settlers of Catan
I had picked out my Top Twelve All-Time games and was arranging them in order when I realized Settlers of Catan was not on the list. That seemed crazy: I like the game bunches, I've played the hell out of it, and like many others it helped usher me in to the world of hobby boardgaming. How could it not be in the top five, much less the top twelve? On the other hand, I had to recognize the fact that, when choosing my favorites, it hadn't jumped out at me. Much as I love the game, it hasn't gotten much play recently and there are other things I'd rather play. So how to reconcile both of those truths? By cheating and taking it out of the running. And honestly, that might be the most fair way to handle it. You can't ignore Settlers, even if it's fashionable these days to hate on it. It's the original. It's the ancestor. And its ways may seem clunky and random these days, as well as squeezed about as dry as it can get, which make it less attractive compared to its progeny, they wouldn't be there if not for it. And I'm not just talking about be there as in exist and be published, but be there as in be on my shelf and on my table and on my list. So it's Game Zero, the Ur-Game, the First Doctor, the Original.


—
Obviously there are plenty of games I'd love to have put on this list. I could probably rattle off a dozen more that deserve consideration. I'll agonize over the positions of Steam and Power Grid for weeks. And if you were to say, "I want to get into board games so I'm going to buy everything on this list because they're all great," you will be very sad and also very broke. A few of these are relatively new; Lords of Waterdeep only came out last year. This isn't a very old hobby and new stuff is constantly coming out, so this list is bound to change. It's also such a huge hobby with such a wide variety of games and genres in it that even my friends who I share a lot of tastes with and play regularly with are bound to have wildly different lists than mine. And Nate Owens, who inspired me to do this exercise, revisits his version yearly to see if it needs tweaking. So maybe I'll see you back in December of 2014 to decide if changes need to be made.